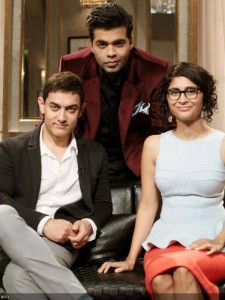 What happens when perfectionist Khan is finally made to sit on the couch with his beautifully intelligent wife? Koffee with Karan season 4 is definitely making the season more exciting since Salman opened the season, and now we have Aamir Khan with wife Kiran Rao talking about love, life and Bollywood in that order!
Aamir is considered to be this 'serious' Khan but he is more than just that, or so he says. He spoke about his hard times during divorce with ex-wife Reena and said that those were some tough days, which is when he developed his friendship with Salman Khan. "When Salman and I worked together in Andaaz Apna Apna, I didn't really like him. I thought he was really rude. But when I was going through my divorce, he actually turned up at my place to meet me and things became great after that. I developed a comfort level and we are good friends," he added. About SRK, he said that there is no hard feeling involved, they both just respect each other's work and space. Apparently, Aamir had tried to patch up things between Salman and SRK which eventually didn't work. "I don't like fights. I tried to patch things up between them but then they have to feel that way to make it happen," he stated. About his films, his unavailability in award shows and performances, he just said that is the way he is and the way he likes things to be. "When it comes to my films, the figures don't matter. People may think I am just saying it like that but that is how it really is. If I cared about figures, I wouldn't do films like Lagaan, Rang De Basanti or Taare Zameen Par. It is a different issue that they turned out to be really successful films. I like it when people come out of a film and they love it. That matters to me more than the figures," he stated.
Kiran Rao is indeed a very different person when you look at her from the glamour industry point of view, but she is one person who is evidently simple, genuine and likes it that way. She laughed, giggled and was very enthusiastic about everything happening on the show. Even though she didn't talk much, she spoke about how she dealt with the adjustment that came with the marriage, family et al. "Aamir was in an emotionally fragile place when I came into his life, and it was a tough phase. His family has actually been a saving grace not only in accepting me, but being supportive. My sisters in law, my mother in law and the entire family are great fun and they are amazing people. We are all on good terms and even Reena is an amazing person. She has brought up the kids so well. They are intelligent and lovely kids." She also spoke about dealing with the pros and cons of being an actor's wife, to which she said that initially she did worry about losing her identity in this process. "I worried if I would lose who I was, since I have been a very different person. But eventually it has all turned out well; in fact I love film parties now. They are good and I have my few friends to mingle with," she smiled.
Their rapid fire was all intellect and no controversy. Evidently Karan Johar had tried to keep his questions that way too, more or less. However, the most ridiculous rumour Aamir has heard about himself is that he directs his films and that he married Preity Zinta. Salman called him a tiger, and he thinks Salman is like a lion. Aamir also finds Kangna Ranaut hot! Kiran would do another brilliant film if she woke up as Ranbir Kapoor, and she thinks Kareena is a fabulous actress. As a devoted wife, she listed Aamir in the top of her list of the best actors in the industry. How sweet! Kiran obviously had to win the hamper in this one.
Their quiz round was the fun part of the episode. A very innovatively derived quiz with questions like figuring out what song or film is it by listening to the Hindi translation of the film and vice versa. Aamir as the famous prankster did not leave the chance of troubling Kiran, as he made KJo take out her buzzer's batteries before the round begun. With yelling, accusing each other of cheating and demanding a fair game, Aamir and Kiran both showed their competitive and fun sides but Aamir won this round.
I think it was a big deal to have Aamir Khan on this couch in the first place which made this episode different yet interesting with a balance between having fun and talking real life. We would love to see more of this beautiful couple on this show and otherwise!
5 best Quotes:
"I don't like feeling like I am for sale."-Aamir Khan
"One of the things I am working on for myself is learning to forgive."
"Ranbir is one actor I feel I need to learn from."
"As the film fraternity, we should stop focusing on numbers and just do work that we want to do."
"My only fear is losing people I love and are close to me."

5 things you didn't know about Aamir Khan:
He likes film parties but when he goes to one, he ends up moving the party to his place.
He gives absolutely honest feedback when a filmmaker asks him about a movie.
He hates loud music.
He likes girls who are direct.
He avoids taking a bath when he can.