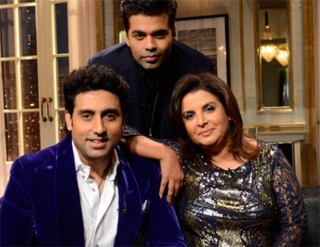 A lot of people will agree with me when I admit that my first reaction to Abhishek Bachchan and Farah Khan coming together on the show was "how will that be now?" I was unsure if the pairing of guests was right, but this was surprisingly different than what I thought, as these two esteemed celebrities seated themselves comfortably on the couch of Koffee with Karan to chat about films, married life et al.
Abhishek Bachchan is known for his 'cool dude' ways, and he was nothing different here. He has been a part of the Dhoom franchise with Uday Chopra right from the beginning, so did he feel overshadowed when Aamir became a part of Dhoom 3? "Aamir is a senior actor and he is brilliant, but when it comes to Dhoom, the film belongs to Jay and Ali," he said. Talking about his stunning wife Aishwarya Rai Bachchan, he said that he loves her because she is a very normal person. "She is down to earth, funny and so normal to be with. I didn't marry her because she is the most beautiful woman in the world or she didn't marry me because I am a Bachchan. We love each other because of how much we get along," he said.
Being Big B's son is definitely not easy, and Abhishek said that his father has always let him make his mistakes and work hard. "I have had my share of failed films but my dad never decided to make a film for me because I'm not doing well. He has let me grow on my own, make my own mistakes and has always taught me to work hard. I am who I am because of my own efforts today," he said.
Farah Khan was her usual fun self, telling shoot tales and about the fun that they have on sets. She had announced her tummy tuck openly and said there is nothing wrong in talking about it. "I did it because I got a reality check when I saw myself in Shirin Farhad Ki Toh Nikal Padhi. And if I have done it, I have no issues admitting it," she said. Talking about working with SRK once again for Happy New Year, she said that it is a different kind of comfort level. "It is really good to go back to being with Shah Rukh on set. He looks after the film so well," she said. Akshay and Farah haven't buried the hatchet over the Joker issue, to which she said that she hasn't met him ever since. "I wouldn't turn away if I ever see him, but it won't be more than just being cordial," she said.
Their rapid fire was fun, but AB did better than Farah in a very obvious way. Farah would dare SRK to come at 9am for a 9am shift. If she threw a costume party, John Abraham would come dressed as a sexy nurse and she would have a gay encounter with Sunny Leone. Art films and critics are just 'there', Lootera was an overrated film and the idea of getting married and having children changed her life. Zoya Akhtar has a very good looking brother that Farah doesn't have, and when directors say "I don't understand numbers I just want people to like my movie" it means "My numbers haven't been good and only my family liked my movies". AB would cast Ranbir and Deepika in Friends with Benefits, he would give Ranveer Singh the Most Hungry For Attention award and he thinks Katrina is one the most hardworking actors in the industry. If an actress made a pass at him, he would be flattered and his gay encounter would be with Karan Johar. Their GQ round was super fun and we all know how intelligent Abhishek is. He rightly won both the rounds.
There was a very adorable video of Farah's kids at the end of the episode that totally stole the show! This pairing didn't turn out to be as strange and overall we had a very homely chat with lots of inside jokes and laughter. Tune in next week for the next episode!
BEST QUOTES:
"Dhoom is Uday Chopra and Abhishek Bachchan." -Abhishek Bachchan.
"I am what I am today because of my hard work, and my father recognizes that." -Abhishek Bachchan.
"If I meet Akshay, there will be a greeting but not beyond that." -Farah Khan.
"Somewhere, it is very important for an actor to believe that what they can offer to the director, no one can." -Abhishek Bachchan.