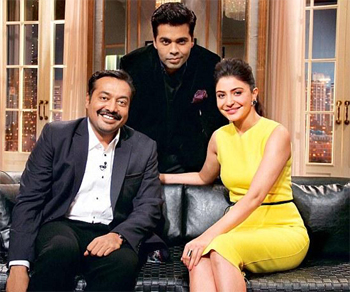 Koffee with Karan Season 4 this season has experimented with the guests on the couch as we have seen a series of debutants. This episode brought pretty lady Anushka Sharma back along with the 'brand ambassador of alternate cinema' Anurag Kashyap. They spoke about contemporaries in the industry, kind of films and lots more!
It didn't take much time for KJo to bombard Anushka about all the speculation regarding her previous relationship with Ranveer Singh, and now with Virat Kohli. She still denies dating Ranveer and sticks to the fact that people thought they were together because they were working together. About Virat, she says they are just friends. "We are good friends, we hang out and we call each other. I am like that with people, even boys. I can sit on one bed with a guy friend and watch a movie and that would be it. I have grown up in an army background and so I have that comfort level with boys. They treat me like one of them!" she said. Deepika had said that Anushka is her friend on the show, to which Anushka said that she just meant that they have no bad blood between them. "Friend is a big term ya. I have like 5 good friends. But just because I don't call others my friends doesn't mean I don't share a good vibe with them," she said.
Talking about the success of her contemporaries, Anushka says that she doesn't sit and observe career graphs of other actresses. "I would care if someone is working with a director I want to work with. Like I want to work with Imtiaz Ali and if I hear someone else signing a film with him it will affect me somewhere. I actually send out a message if I watch a film and I like it. I have sent a message to Deepika and Parineeti when I loved their film. What I don't like is the big deal people make about it because now if I meet them it is a little odd but then I did what I felt like. I haven't created that friction!" she shrugged. Aww Anushka, no wonder Dippy thought you are her friend!
Anurag Kashyap hated everything mainstream, including Karan Johar and the 'rich kids who struggled in Malabar Hills'. "I was more idealistic then, but now I understand the economics and other parameters of filmmaking as well. Now because a film like Gangs of Wasseypur is doing well, it is like I have switched sides. But that's not how it is. Now people understand those kind of films too. I endorse cinema that I believe in even today. I know I couldn't give what UTV could give to The Lunchbox," stated. Talking about his current phase of separation with Kalki Koechlin, he said that they are in the process of separation. "She is the coolest person I have ever met and I love her madly. Insecurities can really cause problems in a relationship." Karan Johar asked him if he is done, and he had hope in his eyes when he said, "No. I am not done with the relationship."
Coming to their rapid fire, Anurag's answers were more like Mahesh Bhatt while Anushka's were the really regular ones. Anushka has been hit on by a co-actor and wants to go skinny dipping with her boyfriend. According to her, one thing that she has and other actresses don't is perspective. She completely agrees with Priyanka Chopra being upset over not winning an award for Barfi! The worst criticism she has ever received is a girl saying, "It's like half of North India's bubbliness is inside Anushka Sharma!" She would tie rakhi to Arjun Kapoor, go on a date with Virat and erase Ranveer from her memory. According to Anurag, Shuddh Desi Romance was overrated, Ram Gopal Varma 'was', not is (whatever that meant) and award ceremonies in India are farce. Salman Khan's autobiography would be called "Bhai Till I Die" and he will revoke Raju Hirani and Dibakar Banerjee's director licence because they create 'envy' inside him.
His advice to Ranbir Kapoor is 'fall in love, seriously!" and to Kareena Kapoor it is "Next time ask what is the film and not who is in the film." The best pick-up line ever was by a girl who thought he is Anurag Basu! If he woke up as Salman Khan, he would lose his virginity. Am I the only one who noticed that this virginity joke has been cracked on every episode this season? Their GQ round was quite interesting as Anurag Kashyap almost slept through it while Anushka Sharma left me confused about how good or bad her knowledge is. She was better than Sonakshi last episode but managed to have an 'Alia moment' (Ashok Chavan, seriously? Someone buy these girls a current affairs journal)
Anurag Kashyap was quite an interesting debutant while Anushka Sharma could have been a lot more fun but well! This was overall a not so entertaining and a comparatively dull episode. Stay tuned for more!
5 BEST QUOTES:
"Deepika is neither my friend nor my enemy." -Anushka Sharma
"There was a time I had resentment against everything mainstream." -Anurag Kashyap.
"Kalki is the best thing that has ever happened to me. I am madly in love with her." -Anurag Kashyap.
"If there is anything serious enough to make a difference in my ife, I will talk about it." -Anushka Sharma.
"I excited if I watch a good film and I text the actor/actress if I like their work. I texted Deepika after Cocktail and YJHD, Parineeti after Ishaqzaade and even Kangna after Queen." -Anushka Sharma