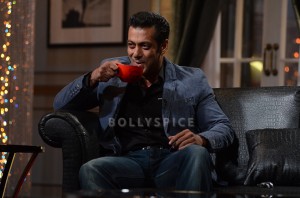 Koffee With Karan Season 4 definitely had a fresh and interesting kick start as Karan Johar managed to get one of the much loved Khans of Bollywood on the couch for a steaming cup of coffee and a conversation! Salman Khan, with his 'I say what I want to' attitude totally gave this season a great start as he spoke about relationships, SRK and all things Bollywood.
Salman is known for his various hook-ups, breakups and of course the big 'marriage' question that he is always subjected to, which he says just irritates him. "I have found quite a few right people," he added. Salman also pointed out that one of the main reasons that he does not like revealing about his relationships is that he doesn't want to associate his name with any girl and cause her any problem in her life later on, if their relationship doesn't work out. Typically Salman!
He had a lot to say about the film industry, saying that he doesn't have a problem with the other lead actors doing well because that is how the industry will grow. He calls himself a 'below average' actor and says that his fan following is because of the characters and the roles he has done and not because of being Salman Khan. About his tiff with SRK, he simply put it straight that they are not the best of friends but there are no hard feelings either. "If people think they can bitch about him to me and I will like it, they are wrong. I will never accept that. I really like him, and I respect him a lot," he stated. He spoke about Kumar Gaurav's influence on his life and decisions, his encounters during his modelling days and also about the people he has introduced to the industry, like Varun Dhawan. He claims that he is a boring person, but do we agree? No way!
The episode also had Salman's father Salim Khan, who is indeed one of the most iconic personalities of Indian cinema as KJo described him. He spoke about his experience with the industry, saying that he came to make it as an actor but his image wasn't convincing. Talking about Salman, he said that he wasn't as serious about his career as he should have been. "Salman didn't use his full talent," he added. He also stated that Salman is a bad judge of people. "He will learn with time, hopefully," he said. He has always been a just father when it comes to his children and he said that he has never defended Salman when he hasn't been sure about his actions. "I cannot blame the press, most of it can be true also," he said. Salman's reaction to that was priceless!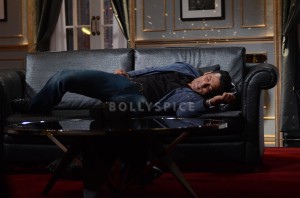 The rapid fire round was entertaining! Salman claimed to be a 'great' guy, his reaction to marriage was 'Haye Ram' and if he woke up as Katrina Kaif, he would wonder where Ranbir Kapoor was. He also believes that if Kareena Kapoor wasn't in the industry, she should have been a house wife, and the same goes for Piggy Chops. His advice to Ranbir Kapoor is to have fun, and his advice to Katrina is to make sure that Ranbir doesn't have fun. He also said that there is no gun that would make him have a gay encounter but if there was one, he would have it with K Jo. Chuckles!
5 Best Quotes from the conversation:
"I have never had a girlfriend. I am a virgin. I am saving myself for the one I marry."
"If people think talking shit about SRK would earn them brownie points from me, they are wrong because I will not permit that at all."
"Best pick-up line used on me is: Chaliye na do drink hogaye. Khaana khaa lijiye na."
"If I woke up as Ranbir Kapoor, I would wonder, "Salman lucky hai ya main?"
"Salman is bad at judging people." – Salim Khan.
The episode was overall an entertaining and interesting conversation. Salman Khan's personality steals hearts as he talks about his life, with a sweet suggestion about Coffee With Salman. Do we all want some of that? Yes we do!
Keep watching this space for more. Here is the link for the episode!