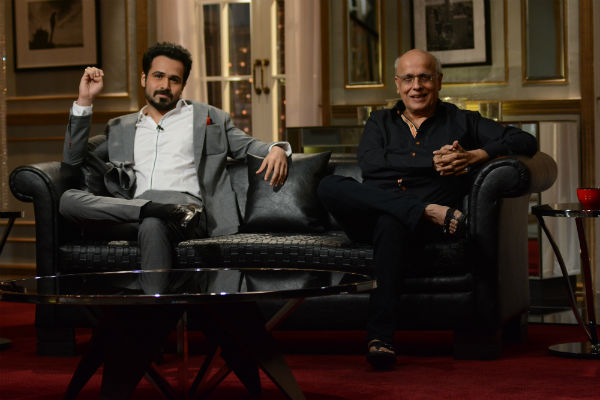 Stars come and go on this show. Some entertain, some make us yawn. But this time, Karan Johar brought to his couch the not so social yet popular for his numerous kisses on screen actor Emraan Hashmi. The second guest of the night is probably the most transparent filmmaker of the industry at present, Mahesh Bhatt. This episode was nothing like a usual filmy chat, but instead we not only had moments that left us speechless but also got an insight on this side of cinema that is still being experimented with.
Emraan Hashmi is barely seen on the off sets scenario, and as even K Jo pointed out we have never seen his wife. "I did try to experiment the peripherals of the industry but I realised that I don't enjoy it. It's not my thing. Since I don't watch Bollywood films, what do I even talk about at film parties?" he said. Talking about his 'serial kisser' image, he shrugs and says," When I did Murder, my reference point was the West, movies like Basic Instinct. I didn't know what I am doing is going to be different. Since I don't watch Bollywood much I had no idea what the extent of physical intimacy is. My wife dug her nails into my hand when she saw the first scene in Murder on screen! Now we have a common ground, I have to take her shopping. My kisses are strictly technical and I am a professional." To this, Mahesh Bhatt added," We did Awarapan, which didn't work even though it was a well-made film but all his other films worked. I told him that the audience tells you what to do. They want to see you do romantic and passionate films."
Mahesh Bhatt spoke about the space of adult content in the industry today, since it is a space that still needs to be invaded and experimented with. He also talked about his bygone days and becoming a 'wreck'. "I was a wreck and then I miraculously got back with Arth. Eventually as I tasted success I was not sure if this is all that life has to offer. I have an ability to see my own inadequacies and I think that is what has pulled me together. To be in the business for 40 years after a 10 year downfall in the beginning shows that maybe I had some energy in me to retain and reinvent myself," he said. Both of them agreed that their family is dysfunctional. "Dysfunctional is an understatement. On my 65th birthday, there was this surprise party and so many people there were claiming to be a part of me!" he exclaimed.
Usually I sum up the rapid fire picking out the best, but as even Karan Johar said it, this rapid fire was 'the best rapid fire in all seasons of Koffee with Karan.' So let's do something different and put down the entire round for you.
Mahesh Bhatt:
One thing you'd like to change about the industry today-It's pathetic lust for the Oscars.
And idea that changed your life–  There is nothing like enlightenment."
An actor you consider the future of Indian cinema- Rajkumar Rao
React in one word
Reality shows: No reality
Casting couch: Reality,
Critics: Irrelevant
Award ceremonies in India: Illusion
An overrated film: Barfi
An overrated director: Sanjay Leela Bhansali
An overrated actor: Kajol
The last film you wanted to walk out of: Rockstar
One person who should never think of dating Alia: No one should think of dating Alia!
Pick one-Mallika or Sunny Leone: Mallika
Emraan Hashmi:
An idea that changed your life- Bhatt sahab's idea that I kiss on screen.
One thing you would steal from Abhishek Bachchan: "His wife." From Saif? : "His wife."
What does Emraan Hashmi have that Hrithik Roshan doesn't?-"Real, dramatic films."
Best on screen kiss: Jacqueline Fernandes
Worst kiss on screen: Mallika Sherawat
A role in recent times that you feel you could have done better?-  "Barfi."
What would u find in the following people's bedrooms?
Kangna Ranaut: "A dictionary."
Saif: "I hope Kareena."
Mallika Sherawat: "An idiot's handbook to succeed in Hollywood."
One thing you miss about being single: "One night stands."
Have you ever hooked up in a public place, bitched about another actor, flirted with a fan?- "Yes to all."
Name one person that comes to your mind-
Overrated: Imran Khan
Ladies' man: Me
Macho: Salman
Plastic: Aishwarya Rai
With this flaming rapid fire won by Emraan Hashmi and another round of a crazy GQ where I must say Mahesh Bhatt was an absolutely delight fighting for the prize, the episode was by far one of the most honest episodes of the show and a really refreshing change. Stay tuned for more!
5 BEST QUOTES:
"The 40 cr penthouse that Emraan has in Pali Hill is thanks to his image that I built."-Mahesh Bhatt.
"My wife's family had this impression that I would just go up to women and start smooching them."-Emraan Hashmi.
"Unfortunately, we don't have the space for adult content in our country."-Mahesh Bhatt.
"Mukesh Bhatt gives me money, Mahesh Bhatt gives me an insight on life."-Emraan Hashmi.
"My dysfunctional lifestyle is my children's wealth."-Mahesh Bhatt.