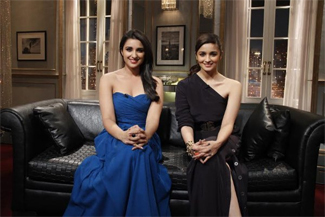 "Alia or Parineeti, the brighter future?" has been a prominent question in the rapid fire on this more than awesome season of Koffee with Karan, and what could be better than bringing the two contemporaries on the couch together to talk about their respective careers, their much hyped equation and lots more!
This was Parineeti's debut on the show, but the actress was quite homely and happily shared her journey so far. "I was Rani Mukherji's back up celebrity manager and she told me that I would be a good actress. Maneesh (Sharma) sent me to Shanoo (YRF's casting director) and she asked me to act out a scene from Jab We Met. I did it thinking it is just something she is going to store. After a month and a half, after I left Yash Raj, Maneesh called me and said that I am signing a deal!" she squealed. Her relationship with filmmaker Maneesh Sharma has been talked about, which she denied and shrugged, "No ya, my relationship with him is something I cannot describe. I hate these assumptions! I respect Maneesh a lot, he and Adi have made me who I am today. He is my 4am friend."
Talking about equation with her superstar sister Priyanka Chopra, she said she was the girl who was in the pram when Piggy Chops was 6. "I have a lovely relationship with her, I borrow clothes from her and she scolds me when I do something wrong. I love her ya! What animosity and competition? She is my sister," she said. Parineeti is still starstruck and has received a hand written note from Big B after her film. "His name on my contact list is Amitabh Bachchan, so I feel all cool that I have all these superstars in my phone book!" she chuckled. Parineeti is a huge Saif fan, while Alia bats her eyelashes and confesses "I want to marry Ranbir Kapoor."
Alia Bhatt came back as her gorgeous and casual self and talked about the speculation following her statement about Parineeti's fashion sense. "I called up Parineeti way before the episode aired and told her what I said, and what I meant by it. People forgot how much I praised her after what I said about her fashion sense. She looks gorgeous when she dresses up as herself, but as soon as she tries to be someone else it falls flat. She has lost a lot of weight. I have also tried different things to be noticed and made a lot of mistakes but now I just wear what I feel comfortable in. I think that is what works for her too," she said to which Parineeti agreed. Poor Alia was definitely put through humiliation after the Prithviraj Chauhan answer and this time she came prepared, knowing her current affairs. "So who is the CM of U.P?" asks K Jo, and she says "Akhilesh Yadav!" with a little victory jig.
Their rapid fire round was actually close competition, but Parineeti as a debutante was brilliant enough to take the hamper. Two people who she would want to compete in her Swayamwar are Kamaal R Khan (KRK) and Bradley Cooper to which she added, "KRK will win." She would like to experiment with Deepika, while Sonam Kapoor should endorse a talk time card as she loves to talk. She would marry Arjun, hook up with Siddharth and erase Ranveer because she loves Deepika! (Seriously, the whole industry has confirmed that relationship on this couch).
As for Alia, Prateik Babbar is someone she would meet at a rave and an idea that changed her life was "Alia we have to meet K Jo tomorrow." She would love to go on a date with Ranbir Kapoor, she has kissed someone and regretted and she has been hit on by a co-star. She would find a picture of Varun Dhawan in his bedroom and an unforgettable pick-up line used on her is "Is your father a terrorist? Because you are a bomb." (Quite possible, this was some 'in' thing during Alia's schooling years). Their GQ round was a riot and with close competition again, Parineeti won the round.
And with this concluded another super hit season of this amazing talk show. Brilliant debutants, candid chats and steaming cups of coffee with the much enthusiastic host Karan Johar, Season 4 gave us more insight on our lovely celebrities and season 5 is awaited already!
5 BEST QUOTES:
"I find it cheap when people assume I got films because of my relation with Maneesh." -Parineeti Chopra
"I know Varun and Sid love me more than they love Parineeti." -Alia Bhatt
"I am ready to be in love. 2014 is going to be my year! I will have a boyfriend." -Parineeti Chopra
"I have this very cliché sister relationship with Priyanka Chopra." -Parineeti Chopra
"After every Koffee with Karan episode, I wrote down who took my name when asked Alia or Parineeti." -Alia Bhatt.