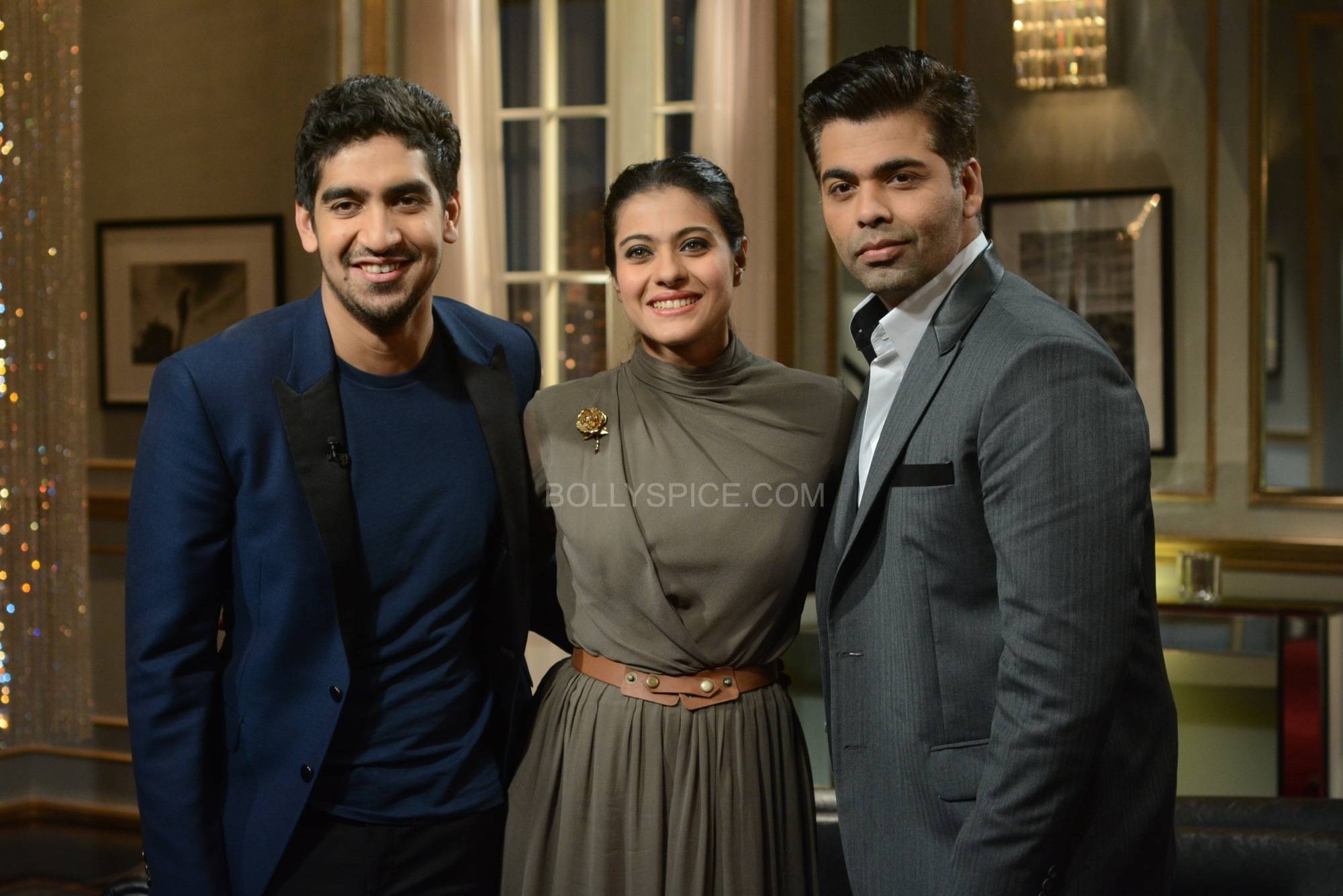 We saw the Kapoor siblings on the couch this season and fell head over heels in love with that episode, but the Mukherjees weren't left behind when K Jo decided to have another set of cousins on the couch who in their own way cast their spell, be it movies or otherwise. Kajol and Ayan Mukherjee brought to the couch lots of filmy talk, friendship and a lot more!
We love Kajol for exactly who she is, blunt and super funny! She has recently made it to all the fashion pages for her style, which wasn't quite how K Jo had expected her to turn out. She laughed and said that she wanted to try this aspect of fashion, which is now a very integral part of the industry. "I have always been told what to wear; I never tried things on my own. This was one area that just didn't interest me and maybe now I can rate myself as 5 on 10. I'm more than comfortable with that, because 10 is too uncomfortable!" she laughed. Kajol and Ajay Devgn have been a solid couple for over 14 years now, so how does she feel about fidelity and the glamour industry? "I truly believe that if there is any such problem, maybe you haven't looked at the problem in yourself or the marriage. Ajay and I have had our ups and downs, but it is so far so good, ya. We both want to work it out; I am not the only one working on the relationship. He is a solid man, I am grateful for what I have," she smiled with twinkling eyes. All her fans want her to make a 'comeback', and so does the industry. Kajol believes that she will do a film when she finds the right script. "I don't want to do a film where I am expected to do 90% of the work. There needs to be communication between the actor and director, and if my director cannot tell me what to rectify and what to do then how do you think will the film turn out to be good?" There was a lot of speculation about Ajay and Kajol's disapproval on Tanisha Mukherjee's decision to do Bigg Boss 7, but Kajol said she supported Tanisha. "She has been our princess, the pampered one. We were obviously hesitant to let her go for something like Bigg Boss. But she really wanted to do it and I am proud of her for it," she said. So is Armaan Kohli welcome in the family? She laughed and winked," Let's save that for another day."
Viewers, didn't we see a totally different side of Ayan on this show? His brotherly affection towards Kajol was worth noticing as he praised her, calling her a protective shield and went all "Kajol di the hamper will be yours, Kajol di you can take it." Since this was his debut on the show, he went on to say that being on the couch really means he has done something significant in his life. The awe in his eyes was warm and quite surprising. Apparently, Ayan walked upto K Jo after Kal Ho Na Ho and said that he liked the representation of the minority group (homosexuality) in the film. Wow, there is no better way he could have grabbed Karan's attention. Ayan and Ranbir's 'love story' is one of the most popular love stories of the industry, and he feels really proud of that. "Both at a personal and professional level, my relation with him is one of the best relations in my life. He is a cool best friend," he starts. So does Ranbir's constant love life drama affect Ayan's life? "Oh, it is exhausting!" he sighed. Kajol was the first one who had told him not to be an actor, straight out and blunt. "She dissuaded me from becoming an actor, which is how significantly she has contributed to my life." Ayan loves actors. "I just love actors, I love befriending them. I genuinely feel everyone else is a 'majdoor' on the sets and actors are like royal." Isn't he just cute as a button now!
Their rapid fire was a very clear competition, as Kajol was surprisingly very diplomatic (Whatever happened?) and Ayan answered smartly. While most of her answers were "my husband", or "nobody" and "everybody", the stupidest question ever asked to her is "Do you speak English?" One line that changed her life was her father's line at the mahurat of Bekhudi which was ""Once you put this paint on its never going to come off." She would ask Rani Mukherji and Aditya Chopra both about when they are getting married and men find her sexy because of her sense of humour. The most irritating song and ridiculous lyrics for her are Tooh from Gori Tere Pyaar mein and the worst remake is Sholay.
Ayan wished he would have directed Rang De Basanti and the most recent rumour he has heard was that Katrina was in Dhoom 3(Ouch!). He finds Katrina sexy and if he was ever stuck on an island, he wouldn't want to be stuck with Kat and Deepika together. One thing that no other director of his generation has is Ranbir Kapoor and he believes Zoya Akhtar is a better writer than him. If he were to make biopics, the one on Deepika would be called "The Girl with the Broken Heart" and Kat's would be "The Girl who Tried." He has hooked up in a public place, cheated in a relationship but never drunk dialled his ex because he 'doesn't do exes.' Kajol wanted these interesting questions too, so K Jo asked both of them about critics in India to which Kajol said that they write well and Ayan said that they are misguided. They both find award ceremonies rigged and paparazzi are 'too enthusiastic' and 'overdoing it.' The strangest rumour Ayan has ever heard about himself is that he had to do 'all kind of strange things' to get a job with K Jo. Karan jumped to defend himself in the most hilarious manner at this!
Their GQ round was top notch as the duo put up a good fight and considerate brother Ayan asked Kajol after every second question, "Oh you want to get that?". Kajol was adamant to win this gift and she did! This episode was the epitome of cuteness as seeing their proximity as siblings was a first and Ayan stole our hearts with his fantastic debut. Get the preview of this episode here and tune in for the next one!
BEST QUOTES:
"Fashion is that part of my personality that I needed to develop."-Kajol.
"I don't want to work with someone who doesn't bring out the best in me."-Kajol.
"I would rather be a part of a bad hit film than a good flop film."-Ayan.
"Tanisha wanted to do Bigg Boss, it is the entertainment business. Who are we to judge?"-Ayan.
"In the last few years, I have had to deal with Ranbir's love life and I am quite sick of it."-Ayan.