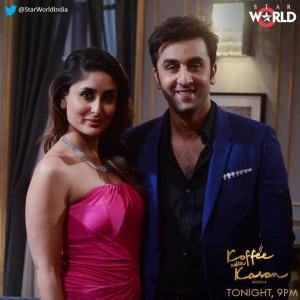 Koffee with Karan Season 4 just got more interesting as KJo got two of the most favourite Kapoors, Kareena Kapoor Khan and Ranbir Kapoor to have coffee with us. Bebo's beauty, outspoken attitude and charm along with Ranbir's personality, charisma and calmness made this episode absolute fun when Karan Johar chatted with them about marriage, Katrina and much more!
Kareena has been asked over and over again about the changes in her life and career post marriage, and she stuck to her 'It has changed for people and not for me' statement. But yes, the latest on this marriage is that Saif is forbidden to kiss on screen. Whatever happened to all that 'Marriage hasn't changed anything', Bebo? However, being Kareena Kapoor, she was her straightforward self and she also spoke about her kind of films, her equation with contemporary actresses and Saif's children and left no chance to tease cousin Ranbir Kapoor with Katrina Kaif.
While his cousin sister was chirpy, Ranbir was on the calmer side. He refused to confirm or deny his relationship with Katrina, but he did say that he feels settled. About the big stir caused by the Sonam-Deepika episode last season, Ranbir chose to believe that though he likes humour, this issue was a little too stretched. He spoke about his past, the comfort between him and ex-girlfriend Deepika, his relation with his parents and about the Kapoor family dinners, describing it as an Italian Mafia family.
Their rapid fire round was absolutely entertaining. While Bebo loves Saif's mind, she hates that she sleeps a lot. When asked who would be the last call on Shahid Kapoor's phone, she cannot imagine his phone in her hand. The most interesting answer was her gay encounter choice, as she chose her 'sister-in-law' Katrina Kaif, leaving Ranbir aghast! She feels Katrina's alternate career choice could be an air hostess, while Sonakshi's should be house wife. She also admitted she cannot imagine being married to anyone other than Saif. Ranbir's reaction to marriage was 'hopefully soon', and if he woke up one day as Ranveer Singh, he would shake his dandruff(refer to Tattad Tattad from Ram Leela). He will cast Deepika and Sonam in Mean Girls while he regrets not doing Band Baaja Baaraat. Also, he thinks Katrina is more beautiful than Deepika. Do we still need a confirmation to that link up, Ranbir?
The best part of the episode was the 'Who knows the Kapoor family better' round! Ranbir Kapoor totally stole this round while Kareena tried to be as competitive as possible. The fight between the two was an absolute delight to watch!
This episode of Koffee with Karan was full of enthusiasm, laughter and some real warm bonding between Bebo and Ranbir. It is maybe the only time we could see the Kapoor cousins together on screen. Or will there ever be a film? Let's keep guessing!
5 best quotes from the episode:
"I have told Saif that he cannot kiss on screen."-Kareena Kapoor.
"The next time I will talk about in a relationship in public is when I am engaged to someone."-Ranbir Kapoor.
"I am not here to make friends."-Kareena Kapoor.
"My father hasn't come to terms with the idea of me having a girlfriend yet."- Ranbir Kapoor.
"I am going to dance solo to Katrina Kaif's hit songs in Ranbir and Katrina's wedding."- Kareena Kapoor.