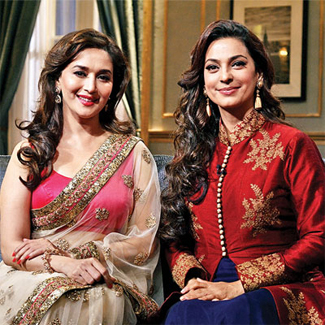 This was probably one of the most special episodes of Koffee with Karan 4, as K Jo brought together the 'power of pink' ladies Madhuri Dixit and Juhi Chawla on the couch. With Madhuri being a 'veteran' as she called herself and Juhi's first time, the ladies were at their classy best as they spoke about married life, actress rivalry and the evolution of the industry.
Juhi Chawla was very entertaining as a debutante on the show, talking about decisions gone wrong in the past and different memories of shooting with co-actors. "I look back and I can see my mistakes. I got carried away with my success! There are some good decisions and some not-so-good decisions but it is all a part of life," she smiled. She had this tiff with Aamir Khan during the shoot of Ishq, which had apparently blown out of proportion. "I didn't go to the shoot and the shoot was called off. He lost it at that. For a long time after that, Aamir thought I am angry with him and I thought he is. We didn't clear the confusion and it went on for years!" she added.
She hasn't done a film with Salman yet, to which she says that she has no idea why that hasn't happened. "Earlier there have been times when he has kind of looked through me, so I don't know if it is a personal reason or not," she stated. Madhuri being the Dhak Dhak girl, did Juhi ever have to match up to that image? "I tried. But Madhuri, mujhse hua nahi jaise tum kar leti thi!" she laughed adorably as Madhuri blushed.
So how did Gulaab Gang happen? "When they first approached me with this script where I was the villain, I wanted to shoo them out of my house. But later, I sat and calmly thought about it and that's when I realised that this will be a very interesting role to do. In fact before we began shooting, they called Madhuri and me for a meeting and just left us alone in a room for some time so that we get to know each other a little more," she added.
Madhuri was amiable and pleasant as she spoke about the much hyped 'rivalry' in the old days between her and Juhi. "Don't they say this about all the actresses? We were all in a phase where we were busy doing our own thing trying to do good work. We weren't friends but when we met, we were always cordial. They say the same thing about me and Sridevi," she said. She was quite clear about the fact that she didn't marry anyone from the industry because she didn't like anyone. "My husband is my hero!" she smiled.
Talking about the organisational structure of the industry today, Madhuri feels that it has become a very big community now. "With social media, our responsibilities have increased. We have so many people working on one film. We have also had times when we are dressed up for a shoot and we are waiting for the script writer to finish writing the dialogues for that scene we have to shoot," she said.
Madhuri's rapid fire was a little diplomatic while Juhi was bang on and won the hamper too. Madhuri could have done Munni, Sheila, Chikni Chameli and Fevicol better and she would like to do a film with Ranbir. A rumour that she would like to spread about herself is that she is doing K Jo's next film. Salman, Shah Rukh, Aamir are brother, husband and friend in that order, she has signed a film without a script and has been nasty behind someone's back only 'sometimes'. A current actress that Juhi sees herself in is Anushka Sharma and one thing that Madhuri has that she doesn't is an American accent. She would recommend a stylist to Parineeti Chopra, a therapist to Mallika Sherawat and an acting coach to Nargis Fakhri. Kai Po Che was an overrated film according to her and she would cast K Jo in 40 Year Old Virgin. Answer after answer, I loved Juhi's spontaneity!
Their GQ round was entertaining as Madhuri won the round with no real competition from the clueless Juhi, so now both ladies had something to take back home. There was a special video of Imran, Ranbir and Ranveer describing their love for the gorgeous divas and Ranveer danced to Dhak Dhak and Ghoonghat Ki Aadh Se, which was absolutely cute and hilarious! Overall, I can safely say that this episode had a little bit of everything-honesty, diplomacy, laughter and lots of old school Bollywood talk. Juhi, promise us you will come back next season!
BEST QUOTES:
"The industry today is efficient but impersonal." -Madhuri Dixit.
"The moment I accepted that Madhuri will be the hero and I will be the villain, I knew we will crackle." -Juhi Chawla.
"I didn't marry an actor because I couldn't have handled my husband looking into the mirror as much as I do." -Juhi Chawla.
"Sridevi is very quiet otherwise, but put her in a shot and she transforms into something else. It is lovely." -Madhuri Dixit.