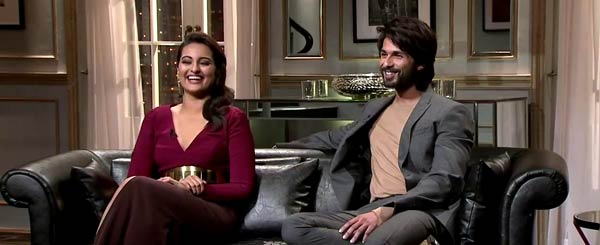 Last Sunday, Emraan Hashmi along with Mahesh Bhatt entertained us with a brilliant talk on the couch of Koffee with Karan Season 4, and this weekend KJo brought old guests Shahid Kapoor and Sonakshi Sinha back for some more filmy talk. Read on to know what they think about relationships, success and more!
Sonakshi Sinha surely didn't change her otherwise set image of being the 'goody two shoes' and you could really see Karan Johar trying to bring something out of her. She stuck to her 'I go to the set on time, shoot and then go back home' words. She found some new respect when she did wonders as Paakhi in Lootera, about which she said," I am so glad that Vikramaditya gave me Paakhi, a character that was so dear to him. I had to do that!" Sonakshi has always been on the curvy side, to which she says that she has broken out of letting it bother her. "Girls walk up to me and say that I am an inspiration to them and that looking at me makes them realise that nothing is wrong with them. That is a good feeling," she added. On working with senior actors and then Shahid Kapur, she says it has had a great time shooting with him and getting to know him.
This was Shahid Kapur's first appearance on the show without a girlfriend, as Karan pointed out. Now that they began on the past note, he says he has a terrible memory and he is happy about that so he can forget 'bad things', or whatever that is. Being single is being free, according to Shahid. "I haven't really interacted with Kareena after our break up except once but it was awkward. With Priyanka it is fine," he said. He admits having a 'curvy' career, and when he woke up on R Rajkumar's Friday morning to a call that told him that morning shows in a lot of places were housefull, it emotionally hit him. "I welled up," he smiled. He is obsessed with his hair, while Sonakshi cannot remember the films that her contemporaries are doing. "Parineeti…umm…your film, Karan..umm..Hasee toh Phasee!" she giggles. Sigh!
Their rapid fire was not even close to being on fire, simply put. According to Sonakshi, if Alia wasn't in the industry she would have completed her education and Bebo should have been a gossip columnist. If she woke up as Deepika, she would thank God for giving her such an awesome body. What Sonakshi doesn't have and Parineeti does is Aditya Chopra, similarly Alia has K Jo. If she walked into Ranbir Kapoor's room she would find a cat (Pun intended).  While Shahid doesn't agree with Ranveer on being able to do Kaminey better than him, he wishes both Madhuri and Sridevi would hit on him. According to him, Ranbir Kapoor's biography would be called 'Besharam' and if he found Sunny Leone in his bed, he would do the 'obvious. He would kill Priyanka, marry Anushka and hook up with Nargis. His first crush was Raveena Tandon in Tip Tip Barsa Paani and Kimi Katkar in Tarzan and he has also checked his girlfriend's messages behind her back. What, really?
Coming to their GQ round, I thought the worst answer ever was the President of India one from the SOTY cast episode but Sonakshi Sinha's lack of filmy knowledge is amusing. Shahid Kapoor won both the rapid fire and the GQ round. This episode was altogether low on energy and high on nothingness. Sonakshi, you are a beautiful actress but too much goody goody makes you a dull girl!
BEST 5 QUOTES:
"I don't think Kareena knows me to really know if I could be a housewife."-Sonakshi Sinha
"Initially, Shahid thought I have an attitude problem and I thought the same about him."-Sonakshi Sinha
"I have always been a committed boyfriend and that is why now I run away from commitment."-Shahid Kapur
"Women are hotter when they are naturally voluptuous."-Shahid Kapur
"I would never date an actress again. I am quite scared of that."-Shahid Kapur