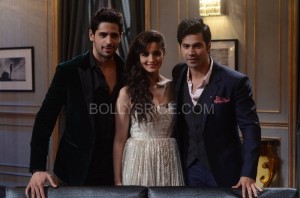 Our preview on this episode told you that Karan Johar brought to the couch his 'students' Alia Bhatt, Varun Dhawan and Siddharth Malhotra for another brilliant episode of this new season. Being the parent director of these new kids on the block, K Jo swore to not protect them this episode and let the world hear their untold stories. The star cast of SOTY who are now moving ahead in their respective careers chatted about their past, the film industry and their lives. Read on!
Alia Bhatt as she is known to be the 'button cute' girl chatted amiably about her life before films happened. The little Bhatt daughter said that she simply knew that she wanted to be in that 'big television box' she watched every day. Alia started dating when she was in the 6th grade but had her first 'serious' relationship when she was in the 10th grade. Karan Johar emphasized on the 'serious' part of it as maybe even he didn't know how to react to the idea of that just like we don't. Grateful to K Jo for such a 'glamorous' debut, Alia's eyes twinkled as she spoke about making it big in the film industry.
Varun Dhawan has indeed got the 'cheater' image, and the poor guy fails to understand where does that come from. "Why me man! Date me first to know if I will cheat on you!" he kids around with Alia. Varun reflected upon the taboo of star kids making it big only because of their family name. "My surname has helped me in a lot of ways but that doesn't mean I don't work hard enough to make my way up the ladder. Talent is needed to make it as an actor," he said. Varun is in this 'really liking' phase with someone who is not from the industry and would not like to be named, and the boy indeed seemed earnest about this girl. Another reason for his fans to go 'Oh so cute' on him!
Siddharth Malhotra's revelation about dating a South African supermodel must have surprised a lot of fans. The chocolate boy spoke about being an outsider to the industry and still making it to where he is. "At parties, people spoke to Varun and Alia about how they had seen them as little kids, but no one had seen me as one. I would still say that they were all so warm to me even though I had no childhood connection with anyone," he said. Siddharth seems to be the more 'dateable' out of the two as per K Jo's survey, and the calm and cute actor maintained his charm throughout the episode.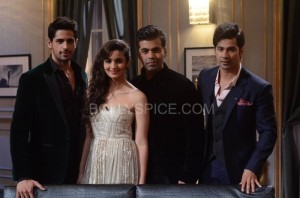 The rapid fire round was indeed on fire! While the most exciting rumour Alia has ever heard about herself was that she is Mahesh Bhatt and Pooja Bhatt's daughter, Siddharth would have breakfast 'sunny side up' if he woke up with Sunny Leone in bed. The most shocking part was the President of India question, where it seems only Siddharth knew the right answer (Manmohan Singh and Prithviraj Chauhan, are you seriously people from the age of social media?). Alia managed to win the coffee hamper with some of the best answers and Siddharth Malhotra won the GQ round with a clear score. Looks like Alia needs to do some serious research on movies too, let alone current affairs!
The SOTY star cast along with the brilliant and in Alia's words 'ruthless' host Karan Johar, this was an entertaining and a very homely episode. It was fun to see the trio on the couch together and we look forward to all three of them once again on the show!
5 best Quotes:
"What makes my father different is the fact that he calls himself mad."-Alia Bhatt
"I like somebody a lot, let me just put it like that."-Varun Dhawan
"Initially, Siddharth actually looked right through me and he spoke to me like I am a small child."-Alia Bhatt
"Parineeti Chopra makes me very insecure."-Alia Bhatt
"Not being from the industry is an advantage, it keeps you more sane."- Siddharth Malhotra.