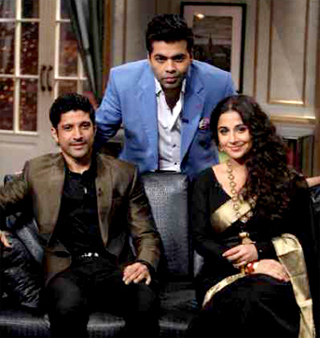 Last Sunday was another bang on episode as Shaadi Ke Side Effects lead actors Farhan Akhtar and Vidya Balan came together to have some coffee with Karan Johar on Koffee with Karan Season 4. Read on to know how Farhan deals with compliments or how Vidya reacts to criticism and much more!
Farhan Akhtar stole 2013 with Bhaag Milkha Bhaag and even K Jo admitted to that. Talking about the film, he said that he has obviously been very happy about the response he has received and feels blessed about the fact that he took up that film which other actors had apparently refused to take up.
"I thank all the actors who turned BMB down", he said.
Another revelation regarding BMB was how fashionista Sonam Kapoor 'traumatized' him with
her fashion sense during the promotions! Coming to his married life, Farhan believes that as far as the other person understands your need to do something and the contribution you are making, the relationship will be healthy. But did you know Farhan Akhtar has an OCD (Obsessive Compulsive Disorder) about his stuff being exactly in place? Even though according to him his wife is used to it, we are sure there is another story to tell there! Farhan was charming and 'hysterical' in his own way and was his awesome self during the episode.
Vidya Balan is so much fun! Talking about married life, she said, "I thought being married means spending all the time with each other, but that's not how it is with us because of our respective careers and travelling for work. At least I had thought we won't have to make time for each other as such but I was wrong," she said. While Farhan says marriage is not stifling, Vidya winks and says that flirting is still allowed! Apparently 'tease' stuff happens only with hubby Siddharth Roy Kapoor! She says they have their differences, but they have made peace with the way they arrange their books on the bookshelf. Vidya Balan is a person who has always been in the bad books about her fashion sense, to which she just shrugged her shoulders and said that she doesn't care anymore.
"Initially it did affect me a lot. I don't understand clothes and I like to wear what I enjoy wearing." About her voluptuous body, she said that everyone has a body type. "I wasn't called 'sexy' until I actually gained weight for The Dirty Picture and then people went all crazy about how sexy I was!"
Vidya was an absolute delight in complimenting Farhan's 'socha samjha' answers with her whacky answers!
The rapid fire began with Farhan. He would cast Salman in the remake of No Strings Attached and he believes Ranveer Singh is the only actor who has more hair than him. The sexiest pick up line that has been used on him was his wife asking him, "Can I drive you home?". According to him if Sonam was a brand, the tag line would be "Now with Unlimited Talk Time." Coming to Vidya, one thing men should know about women is that women 'want it, need it and like it' as much as they do. To the people who talk about her fashion sense, she would like to say, "Thank God, I have a life." Karan asked her what would she do if she woke up as Priyanka Chopra one morning, to which Farhan answered,"I would call Vidya up and say you were awesome in Kahaani." She feels brother-in-law Aditya Roy Kapoor is the brighter future of Bollywood and she finds 'Hookah Bar' the most ridiculous lyrics ever! Farhan Akhtar won the rapid fire. The GQ round was as usual fun, because you can never get enough of your celebrities going all childish over who pressed the buzzer first and screaming 'Cheating'!
5 Best Quotes
I thank all the actors who turned BMB down-Farhan Akhtar
I have only grown up with women. I have always felt wanted with women-Farhan Akhtar
When SRK looks at a woman, you want to be that woman-Vidya Balan
People started complimenting me more after I made peace with my body-Vidya Balan
With Vidya is more like hanging out with one of your boys-Farhan Akhtar
With another Sunday perking up your moods with super fun Vidya and charming Farhan, stay tuned for the next episode of Koffee With Karan Season 4 on Star World!