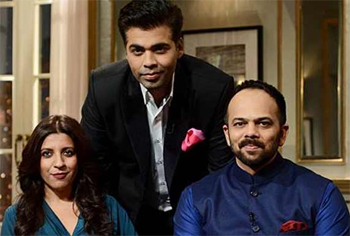 She is undoubtedly one of the most talented filmmakers in the industry today and has given us cinema to think about. What's more, she gave us ZNMD! He is the king of the 100cr club, who not only made us laugh with Golmaal but also gave us the entertaining Chennai Express. K Jo's couch for this episode had Zoya Akhar and Rohit Shetty who with their distinct kind of cinema enchanted us with tales of the filmy world!
Zoya is the daughter of the legendary Javed Akhtar, which has been an advantage as a woman in the industry. "I have been lucky to just pass by the phase of having the wrong people hit on me. People know who my parents are, so 'dirty uncle' couldn't hit on me. And honestly speaking, when people ask me what it is like to be a woman in a man's industry I don't understand what should I compare it with. I have been a woman all my life! It is a man's world in any business and I have never faced any issues just because I am a woman," she added.
Did you know Zoya faces trouble casting for her films? "I don't understand why people don't want to do my film! Maybe it is because I make ensemble films, not a one boy-one girl film. That is not my kind of genre ya. I like love stories, like Casablanca," she said. Talking about critics, Zoya received some really bad reviews for ZNMD. "The problem is that they review the story of the film and say what they like and what they don't, they don't review the craft. They have different standards for different directors, that is so unfair! The whole 'This film is great; leave your brain at home.' Who can leave their brain at home?!" Box office analysts annoy her more than critics. "When we used to watch films, we loved the film for what we watched. We didn't bother about how much it has made. Today everyone wants to talk numbers! They don't know what else to talk about," she added.
Rohit Shetty is the absolutely out there mainstream director. While Zoya praised Rohit's strength in his genre, Rohit loved ZNMD. His take on critics is simple, he doesn't care about the stars they give. "Earlier, it mattered to me. I used to care and get angry. But now it doesn't concern me. I know now I am making Singham 2 and it will get 1 and a half star but it will be a hit at the box office. There are so many of them, they don't matter."
Talking about the box office and the 'know it all' analysts, Rohit said, "You will never see us talking about the budget and the earning of our films ourselves. We are always asked. It is like the replacement of Silver Jubilee! Everyone asks,"Arre 100 cr bana yeh picture ka?" without understanding the real mechanism of the term." About the media, Rohit doesn't get bothered about all the speculations regarding animosity between a director and an actor. "Stars get more territorial than us. It is more about emotions. Ajay was with me when I didn't do well and he stood by me. Then Golmaal happened and today I am who I am because of him. We have known each other for 20 years," he said. Rohit believes that having ensemble cast has always been difficult, while Zoya thinks otherwise. "Today, stars want to do one film when they are emotionally connected to a director. They want to do their own solo work. Every Friday there is a feeling of "Iski picture kab giregi?". Everyone talks about a film's failure, it has happened after every film of mine and I have found out who has said what. I just stay away from such people," he smiled.
Their rapid fire was straight and candid, with Rohit taking the hamper. If Zoya was a private investigator, she would tail Bhushan Kumar. According to her, Vicky Donor was overrated, Saif Ali Khan is underrated, Badtameez Dil is irritating and Tooh has ridiculous lyrics. She would hook up with Ranbir, Ranveer and Shahid Kapur and she wants to go on a date with K Jo who apparently ditched her for Ekta Kapoor (Uhm). One thing men in this country should know about women is that no means no and if she would ever experiment, she would have a thing with Kangana Ranaut.
Coming to Rohit, if SRK wasn't in the film industry he would be a sportsman and if Bebo wasn't in the industry, she would be a gossip columnist under some Chikni Chameli kind of name. A movie that didn't deserve a sequel was Satya, a person who needs to work out is Abhishek Bachchan and the most promising director according to him is Ayan Mukherjee. Their GQ round was hilarious, as Karan declared his love for Hum Aapke Hain Kaun by admitting that he has watched it 16 times. Zoya judged him and how!
Zoya Akhtar is definitely one of those people who you can listen to and learn from and Rohit Shetty was a sporting debutant. Seldom do you have some real talk on filmmaking and hilarious revelations in the same episode, a perfect blend in that sense!
BEST QUOTES:
"I have had my struggles but none of them were because I am a woman." – Zoya Akhtar.
"We don't talk about 100 cr clubs, we are asked about them." – Rohit Shetty.
"Film is one art where everyone has an opinion about how it should have been made. Everyone is a filmmaker. You don't look at a painting and say that its background should have been red!" – Zoya Akhtar.
"I am who I am today because of Ajay Devgn." – Rohit Shetty.
"When you make a film, the only people who remember they were approached are the ones who didn't do the film." – Zoya Akhtar.