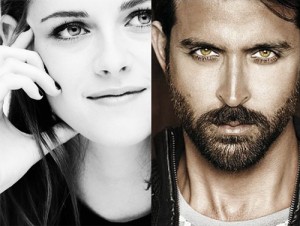 Hollywood actress and star of the Twilight series, Kristen Stewart, recently shared that she would love to work with Hrithik Roshan.
Speaking to the media the actress said, "If someone offers me a good script, I would love to work in a Bollywood film. I would love to work with Hrithik Roshan."
Kristen denied the rumours that she was set to star opposite Hrithik Roshan in Shekhar Kapur's Paani but she did go on to reveal she would love her son to look like the Bollywood actor.
"He is such a wonderful actor and so good-looking. In fact, if I have a boy, I would want him to look like Hrithik Roshan, but with Rob (Pattinson's) eyes."
Hrithik Roshan's wife, Sussanne Roshan, revealed she was flattered by Kristen's comments telling the media, at a later date, "It's a flattering comment. Kristen is a wonderful actor. So it's sweet and pleasing for us to hear it from someone like her."
The Bollywood actor will next be seen on the big screen in Krissh 3, which is set to release in 2013.