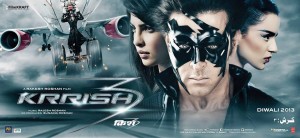 With Krrish 3 scoring stunningly high during the weekdays and creating one record after another, a double century is now a cakewalk. In fact now the next huge target is for the film to cross the 225 crore milestone of Chennai Express which seems in sight, considering over 165 crore that the film has already netted in Week One.
These are indeed marvelous results for a film and especially its genre which was always a risk to begin with. Moreover, Rakesh Roshan has further re-established his supremacy as the only filmmaker from the 80s who has continued to change with times while keeping Indian emotions intact. With Krrish 3, he can pretty much wear the crown of 'Showman' on his head and the only filmmaker to have managed such terrific record critically as well as commercially. For someone who started his career as a director with Khudgarz (1987) 26 years ago, he has evolved over decades, and how.
As for the actors, everyone associated from the film is bound to benefit from it. Hrithik now has two back to back hundreds (after Agneepath) and would join Aamir Khan (3 Idiots) and Shahrukh Khan (Chennai Express) in the 200 crore club. Priyanka Chopra too would do the same with Kareena Kapoor (3 Idiots) and Deepika Padukone (Chennai Express). Meanwhile, Vivek Oberoi too has got a shot in his arms with two back to back hundreds (after Grand Masti), hence looking at a new innings ahead.