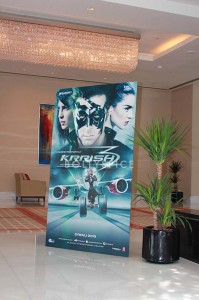 With less than a week left for the release of Krrish 3 the director Rakesh Roshan and the star cast Hrithik Roshan, Priyanka Chopra, Vivek Oberoi, Kangna Ranaut flew into Dubai on the 24th of October to promote the highly anticipated film. First stop was the press conference at The Oberoi hotel in Dubai and BollySpice was there. Check out our special report! Special thanks to Hrithikrules' Vani and Ara too.
The event commenced with the viewing of the trailer and songs followed by performances to most of Hrithik Roshan's hit songs from Kaho Naa Pyaar Hai to Krrish 3.
Then to much applause the cast along with Mr Rakesh Roshan arrived at the ballroom.
Mr. Rakesh Roshan was asked about when he had the idea of making a superhero film in Bollywood, "I always had a vision to make a superhero film. So I started with Koi Mil Gaya, which gave me the permission where Jaadoo came and gave powers to Rohit and that power was passed to Krishna. See we don't have comic books in India, so it took me one and half film to create a superhero.
So Krrish in the second half you see Krishna turning into Krrish. So once Krrish was born so in Krrish 3 I had to take this forward. And I took this forward with a super villain who had more powers than Krrish and Vivek whose name is Kaal and he (Krrish) has family which is Priyanka. They all have done a fabulous job in the film. I am very proud that we have such fine actors we have in India."
Priyanka was asked about her dual role, she said, "Good is great fun, but bad is always much better."
So what made Kangna accept this role? "Krrish 3 is very, very favorite and very close to heart project. This is India's first super girl. It is a very unusual character and it is very exciting to do something new. The franchise is so big and to be a part of a franchise like this is an honor for me."
Responding to a question on how the Krrish series fits into the niche of Indian films, Mr Roshan responded, "I've always made film where my content is always Indian. I have a grandmother, I have a father, I have a wife, I have children in the film, so it is a very family oriented film and that give weight to the film. If I would have only gone for a sci-fi film it wouldn't have done well at all. So I carry on that tradition of making a family oriented film with a sci-fi film in it."
Much to the applause of the audience when Rakesh Roshan was asked which scene(s) from any of the three films would he film in Dubai, "I'll tell you something I am making Krrish 4, the whole film in Dubai."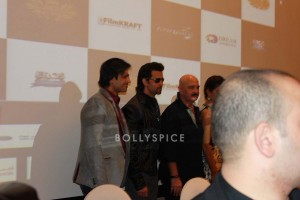 Then on to the Krrish and Hrithik was about the special effects of the movie being done in India. "Yes, that was a decision taken by my father when we started off. We wanted to choose India the artists in our country the opportunity to put our faith in them because the talent is there; we've just never had the opportunity. So this really is our first full-fledged, home grown Indian, hi-budget movie effects, super hero musical extravaganza. We are very very proud of that."
Hrithik was asked, 'whenever your film is releasing most people expect good dancing from you. So when you start rehearsing do you feel a sense of competition from other good dancers such as Shahid and Ranbir?' "First of all, whenever you talk about competition I think competition is very healthy. I think it is a good thing because a competition is the only place where you have other people push you to excel. So I look at it as a positive thing and I applaud and I appreciate and that fills me up even more and drive me to do my best. So competition is a great thing. Dance is an expression, it is really not about how perfectly you do the step I think dance is more about expressing from where dance starts from. Who is the first human being who ever danced. It was definitely an emotion that was expressed through the body so dance is an expression and celebration if you do not show it on your face or if you are not enjoying it it is not going to be possible to please people or it is not going to come through. So yes I do enjoy. I make sure I enjoy it no matter how tough it is I make sure I enjoy it."
In the film Vivek is playing the bad guy Kaal and he was asked about working on the film and playing the negative character. "Haan yaar aap jo kehrahe hai baat tou sahi hai villain kaafi bhari padta hai iss film mein; kaafi bhari hai bhi kyonki 28kg ka costume pehenke ek superhero ke saath jhagada kar raha hoon (Yes, it is true. The villain is very powerful in the film and weighs a lot too. I am wearing a costume which weighs 28kgs and fighting the superhero).  So I was like a tinman wearing a metal suit and on ropes and trying to match blow for blown with our favorite hero Mr. Hrithik Roshan who is the favorite superhero of India and of course, Dubai. Trying to match up in the air hanging some 30-40 ft in the air with ropes tied up to us. So it is quite a tough one. But I love this role and I think har mushkil (every problem), every inconvenience, every tiring day was felt worth it every time you saw every single shot. You felt like you are being part of history, you are being a part of the greatest attempt at the biggest dream ever dreamt by Bollywood."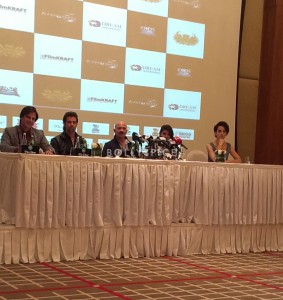 Both Hrithik and Rakesh were wearing the Krrish band, which was designed by Farah Khan. Hrithik was asked the significance of that band, "The Krrish band is a symbol and according to me a symbol is more powerful than a movie or an actor or an individual because the symbol carries the values that are associated with Krrish. Krrish is not a part of the mask and cape and the fact that he has these powers and he can fly around. Krrish to me is about his character, the values that he lives by, the codes that he lives by, and it is one of the characters that has made a huge impact in my life personally because right from the start of this film till the end I had suffered physical and mental agonies which could have broken me, but because I was so intimately involved with this character I was into his head and it made me ask the right questions. Instead of asking why is this happening, I asked what would a superhero do if I was a superhero right now. Starting from my double slip disc in my back and the doctors spoke to my dad saying you should not make this film and my dad even came to me one day and said, 'We'll shelve the film and we'll make it 2 years from now. You rest'. I just knew that if it is not made now it will never be made. Everything was good to go and this thing happened. But instead of asking why I asked myself how can I make this work? What can I do to get over this? I could ask those questions because I was associating with Krrish and the answers came when I understood what resources I had. All of us in our lives, whenever we go through despair, we focus on what's wrong. But if you just change your mindset and focus on what resources you have to change your environment, to change yourself then that's when you will get those answers and tap into the power that we have within us. Since then till the time that I had my brain surgery, I have been completely associating myself with his values. I am an aspiring superhero within myself and I want to live that life. So I always wear this band because I want to remind myself that no matter what happens in life- one must always be in cause and never in effect and just to remind myself that I have the power that I need to change whatever I need to in my life with courage, strength, and belief. Hope and always remember than life is less about you and more about people that are around you. Krrish is about contributing. He is there to help the world, to contribute to the world and these are all the values that I associate with this band.  So I guess now you got the entire lowdown on it (laughs)."
Kangna talked about her fashion in the film: "Well, thanks to Mr. Roshan, he has given me a very challenging and beautiful role to play. I got to wear beautiful dresses as you have seen in the song, nice hairstyles, very fashionable. That's what I love and I got to do it on screen. It's very rare that you get to do what you love on screen and that too with such characters."
The event ended with Hrithik talking about keeping a balance between iconic roles to simple ones, "Well, you know I really can't manipulate or calculate my instincts. Whenever somebody is in the realm of creation, you can only create something, what you are within. So I am a slave to my vision, to my instincts so whatever makes me want to do something I have to just go ahead and do it. Whether it is commercially viable or not, such kind of calculative thoughts should not ever enter your mind, I believe."
The team then moved to make a guest appearance at Studio 8 boutique in Jumeirah and ended the day by visiting the Arabian Center where waves of people, adults and children alike, awaited to get a glimpse of their favorite stars and of course the super hero Krrish!
Special thanks Ara and Vani, Hrithikrules.com