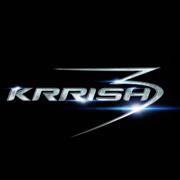 Yes! Here's some great news for all you Krrish fans who are eagerly waiting your first look at the new film! The makers of Krrish 3 insist that the trailer of their upcoming superhero flick will come with Rohit Shetty's Chennai Express on August 8. Ask Producer – Director Rakesh Roshan and he confirms this saying, "Launching the trailer with a big film guarantees many eyeballs. I am going to talk to Shah Rukh or UTV about the same."
With the huge buzz on Chennai Express, the audience will be in for a double treat with the trailer of much awaited Krrish 3 coming simulatenously.
In other Krrish news, star Hrithik Roshan is going to be chatting with fans on the 27th! He tweeted, "You can never connect the dots looking forward, but looking backward everything makes sense in life.7 years later @krrish3 rises again! N for that I will be chatting LIVE with all you wonderful people on the 27th June!! It's going 2 b supersonic!!" Find out more at Krrish 3's official FB page https://www.facebook.com/Krrish3thefilm
Stay tuned for more!