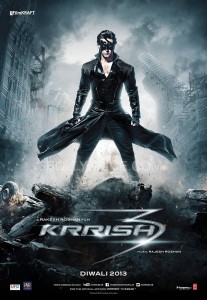 Breaking all records with an opening of 25.5 crores just from the very first day of release, Krrish 3 is the first film to open with the magnificently staggering figure on a non- holiday, pre Diwali Friday.
Forming the third installment of the sci-fi, super hero themed trilogy, heavily anticipated Krrish 3 has some enormous superhero boots to fill.
The first part of the trilogy, Koi Mil Gaya was declared a blockbuster hit and collected RS 79.20 million ($1.2 million) at the box office.
The second part, Krrish was also declared a blockbuster collecting a worldwide total of 117 crores – which converts as $18 million dollars.
Krrish 3 has clearly unleashed its super hero powers and is keeping the name of its predecessors flying sky high.
Sources state that from UK paid previews held on Thursday, Krrish 3 has raked in 1.10 crores – with a total of 1.58 crores from both Thursday and the film's opening day on Friday.
The superhero has also got the USA mesmerized with 1.50 crores to its name thus far.
With a star cast comprising of Hrithik Roshan in a dual role as superhero Krrish and father Rohit Mehra; as well as Priyanka Chopra, Kangna Ranaut and Vivek Oberoi – the film does not rest on an array of big Bollywood star names but on a magnanimous story line.
Telling the tale of a battle between good and evil, the film is no doubt proving a perfect way to celebrate Diwali.