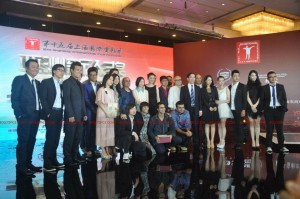 Black and white Indie psychological drama Kshay (Corrode) won the title of the Best Feature Film at the Asian New Talent Award of the 15th Shanghai Film Festival (SIFF) held last week. The awards recognizing first or second-time directors from Asia saw Kshay compete with eleven other films nominated for the top honors. Upon announcing the award the jury commented, "We give this prize for Best Film of the 2012 Shanghai Film Festival's Asia New Talent Award Competition to Corrode, directed by Karan Gour of India, for his achievement in capturing with sharp and fresh cinematic language one complicated and surreal story in the real world about the obsession of one young woman with one religious statue, without any direct reference to the economic conditions in his country or its roots in many different religions. Without any doubt, Karan Gour will make one New Wave for his generation in India. He knows the cinema very well, and he knows how he can use it to tell his stories"
Helmed by debutant director Karan Gour, starring Rasika Dugal and Alekh Sangal in lead roles, Kshay traces housewife Chhaya's threatening obsession with an unaffordable statue of Goddess Lakshmi. The film has been touring festival circuits for most of last year, with a winning run at the SAIFF in New York, IFFLA in LA and appearances at Dubai. Having released (under the PVR Director's Rare banner) in India earlier this month to favorable reviews, Kshay had a good start at the theatres. Owing to positive word of mouth, it steadily worked its way to a second week, rare for movies of this kind.
An extremely reticent Karan pleasingly content with the reception the film has received said "The win felt fantastic and it took a while to settle in. When they played the clips of the nominations I didn't think we stood a chance because they all looked phenomenal. I hope this win helps KSHAY get a wider audience". Rasika, who's been at the receiving end of overwhelming acclaim and lots of interview calls for her hard-hitting performance admits "I am thrilled that we won at Shanghai and hope that getting this recognition on an international platform will open avenue for all of us"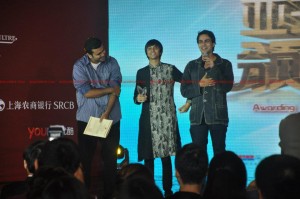 Speaking about the winning moment at the awards, Alekh said "The moment they announced that Corrode had won Best Film will definitely be 1 of the defining moments… not just for the Kshay team… but in a small way for Cinema of this kind as well. Personally it was a very gratifying experience to be an integral part of the entire film-making experience of this wonderful movie and to see it rewarded the way it was, made me feel that there is some justice after all! Of course having the honor of being able to give the acceptance speech was something that I will cherish forever as well!" he added referring to the experience of sharing the stage with Karan to accept the award.
Echoing Alekh's excitement producer Shaan VS, the key player for driving the networking, promotion of the film asserted "This win is quite surreal. To be acclaimed internationally and winning an award competing against top Asian films is of course, an honor. Plus, with the number of Indian films making it big at international festivals this year, this is yet another 'feather in the cap' for the way Indian Cinema is perceived by the World (This cap is slowly turning into Native American headgear). It's always a challenge for a low-budget, black-n-white, Indie film from India to even get seen by the programmers of big festivals, let alone get selected. But in the case of Shanghai, we sent the screener on a whim and the next thing we know, it got programmed. No recommendations, no agendas – a straight selection due to the merit of the film. That was the justice we were always looking for."
Balancing ambition on a minimalist budget, long list of ending credits of money lenders and 4 years of perseverance has finally paid off (quite literally) courtesy the cash prize attached to the award. "We were actually able to recover the cost of production of our film, just by winning a Festival Prize money! Means a lot in the larger scheme of things…" confesses an elated Alekh. "Cash awards like these truly help small films like Kshay the most. Suddenly, we are in a position where we can ignore the 'take-it-or-leave-it' attitude that people over here keep throwing at small films." Shaan adds.
Next is the pipeline for Kshay is three film festivals, a DVD release, a satellite release and also some hopeful foreign tie-ups for the films international audience.