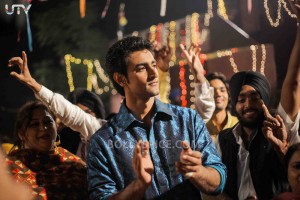 Last seen in Don 2, Hindi cinema fans have been eagerly awaiting Kunal Kapoor's return to the silver screen. This Friday, November 2nd, fans will get their wish because the comedy Luv Shuv Tey Chicken Khurana starring the fabulous actor hits theaters worldwide. According to Kunal, this is a heartwarming, funny film but it is not the over the top in-your-face slapstick comedy, the funny comes from the situations and the characters in the film. Read on to see what else Kunal told us about LSTCK, including what he has said the film will do to producer Anurag Kashyap and what he will never do with Huma Qureshi again!
What goes into your decision of what film you are going to do?
Well, I think different things for different films. Obviously the script is the most important thing when it comes to deciding a film. It also comes down to whether I've played that sort of role or not and if there is something where I feel like I get a chance to discover something new. I think that is always exciting for me. But as far as Luv Shuv Tey Chicken Khurana goes I've been part of the writing process, I've been part of the project right from its inception so there was no question of choosing the script here; here it was the question of getting the right people on board.
So how did the idea of the story for the film come about?
The director Sameer Sharma and I have known each other for a while. We used to keep talking about the sort of films we'd like to do and within that conversation the germ of Luv Shuv Tey Chicken Khurana came about. For us, it was really interesting because every time you watch Punjabis in movies there is this stereotype – there are loud and they are over the top and you know the comedy is always slapstick. I am from Punjab, Sameer has family there, Sumit has family there and we realized that that's not the way our family behaves. (Laughs) They are real people with real issues. We wanted to break that stereotype, so with this film, the humor usually comes from the character in the story and not because they are over the top.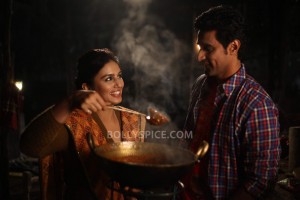 Tell us about the story of the film from your character's point of view.
My character is somebody that has run away from Punjab like a lot of boys. Here in Punjab a lot of kids feel like they need to go to the UK, the US, Canada to settle down because they feel that life is better there. But once they get there they realize that it wasn't what they though it would be. So Omi Khurana is one who ran away and now 10 years later he has to come to the same house because he's in trouble in the UK. Omi is a character that is selfish and he thinks only about himself, he's stubborn – if he decides to do something he's going to do it. But I think deep down he's a nice guy and a part of the film is finding himself along with the recipe.
The other thing is obviously the romance, which is this girl that he had left 10 years back without really telling her that he was going. And then there is a recipe Chicken Khurana and the family is really famous because of their recipe. Only one man knows the recipe and the now the grandfather has gone senile and he hasn't told anyone the recipe. So it's also about the search for the recipe. The story works on many levels.
This is your first comedy. They say comedy is harder, so did you find comedy difficult?
This is my first one, but the thing with this film is that the characters are funny and the situations are funny, so you don't have to really play humor. The humor comes out of not playing the humor, you know what I mean? So just the fact that my character finds himself in the middle of this completely crazy family is where the humor comes from, because I feel he's possibly the most normal guy in the whole situation and everyone around him is nuts. The humor comes from him actually being really serious about the whole thing.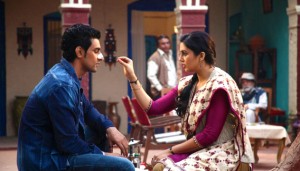 Tell us about working with Huma Qureshi.
It was fantastic. It was really good. She's got a lot of appreciation for Gangs of Wasseypur and in this film she plays a completely different character. For an actress who is just starting off, for her to play two completely different characters is just remarkable. I was telling her we must work again as long as there is no scooter involved in the film because her scooter riding skills are absolutely fantastic (you can hear the facetiousness in his voice) and I had the pleasure of having to sit at the back. (Laughs) So it would be wonderful to work with her as long as there is no scooter involved again. Nothing on two wheels. (Laughs).
You said you worked with director on the script, how was it to see it come to life?
Oh it's damn exciting. When you put your heart into a script it is wonderful to see it come alive because you know all the hard work that has gone into it. I think we got really lucky with the producer. Anurag Kashyap has never made a film like this, it is a family entertainer. We were just kidding with him saying, you know you are going to get a bad name after this because there is no blood (Laughs), there's no killing, there's nothing morbid about the film, and it's actually for everybody. It's for the whole family, so you are going to get a really bad rap for this film. (Laughs) I think we really got lucky because we got the right people backing it whether it is Anurag or UTV. It is one thing to put it all together and another thing to sort of get the right people to believe in it. We got lucky in that respect.
Tell us about Amit Trivedi's sound for the film.
Amit wanted to make the sort of Punjabi music you haven't heard before. Again there is a stereotype when it comes to Punjabi music and so in these songs there is no word Hadippa, there's no Shava Shava Na (laughs) and so on. In fact, Amit and the lyricist went to Punjab and they stayed there for a month. They went to smaller towns and they picked up rustic sounds, rural sounds and he has managed to take that and give it like a modern sort of twist to it.
Have you seen the final product?
Yeah, I am really happy and that rarely happens (Laughs). I am usually really critical but this one I'm really happy with.
What are you doing after this?
I am writing a couple of films right now. I am developing some scripts with writers and directors that I really want to work with and soon enough those will start falling into place.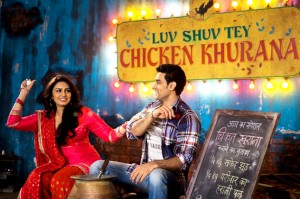 So what are audiences going to see when they come see Luv Shuv Tey Chicken Khurana?
First, I think it's a heart-warming tale with a lot of humor in it. Secondly, you know what's happened of late in Hindi movies is that when you deal with humor there are either jokes that are over the top or there is an element of slapstick, which is okay of course I mean it's great work. But in the 70s and 80s there were directors like Hrishikesh Mukherjee who used to make comedies, which were really funny but situational. I feel like with this film Sameer has managed to recreate that. It is really funny, but it's not trying to be funny, you know. So humor comes out of the character and the situations. Sameer and I have grown up on Sooraj R. Barjatya and Yash Chopra and all those sort of films, but we still enjoy the madness and quirkiness of independent cinema and Anurag Kashyap. I almost feel like this is a car crash between Sooraj R. Barjatya and Anurag Kashyap. (Laughs) It's heart warming but its still crazy.
Be sure to check out Luv Shuv Tey Chicken Khurana when it opens in theaters on Friday!