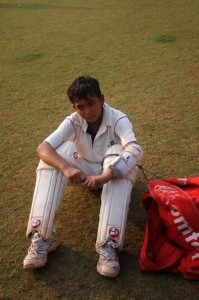 One of the most popular and acclaimed Indian faces in Hollywood, the TV show The Big Bang Theory star Kunal Nayyar who plays scientist Rajesh Koothrapalli in the award winning show, has voiced and produced a prolific documentary on Cricket, and after many festival laurels, it is finally releasing in theaters in October. The documentary Beyond All Boundaries is presented by Enlighten Films directed by Sushrat Jain and tells the stories of three ordinary Indians, a penniless superfan, a boy superstar and a girl cricketer, for each of whom cricket is a lifeline. One of the people the documentary follows is 14-year old cricket prodigy Prithvi Shaw who is breaking several long-standing Mumbai school records in batting. Coaches, players, and even local politicians speak about him in hushed tones, convinced he is the next Indian cricket superstar.
And in what's fantastic news for the team, Young Prithvi Shaw who had shown glimpses of his huge potential when he slammed a record 546 while playing for Rizvi Springfield in an interschool game in the Harris Shield here last year has landed a deal worth Rs 36 lakh with cricket equipment manufacturers SG, which has had greats like Sunil Gavaskar, Rahul Dravid and Virender Sehwag endorsing their brand in the past! Prithvi will receive this sponsorship over a six-year period.
"I am extremely thrilled about this fantastic piece of news for Prithvi. He was one of the three main subjects of our documentary feature, Beyond All Boundaries. Our film captures not just the amazing 2011 World Cup win but the stories of three remarkable Indians for whom the sport of cricket was a salvation of sorts. We spent a lot of time with Prithvi during the making of the film, interviewing him and everyone around him, including his father, following Prithvi as he spent hours upon hours training relentlessly to become a better cricketer. I'm delighted to finally be bringing the film to Indian audiences, who will now be able to get a glimpse of Prithvi's life before all the successes – all the struggle and passion that goes into making a young cricketer. As you will see in the film, Prithvi and his father have fought some tremendous odds and hardships so he can pursue his dream and fulfill his rare cricketing promise, and they deserve every bit the good fortune that has come their way. It's a great story behind the scenes of Indian cricket," says an elated Director Sushrut Jain
The film had its World Premiere at the Dallas International Film Festival in April 2013. It subsequently screened at the Arclight theaters in Hollywood as an official selection at the Indian Film Festival of Los Angeles (IFFLA), the premiere festival of Indian cinema in the world. At IFFLA, Beyond All Boundaries won both the Audience and Jury Awards for Best Documentary Feature. And after all the acclaim, the Documentary is finally hitting Indian theatres!!