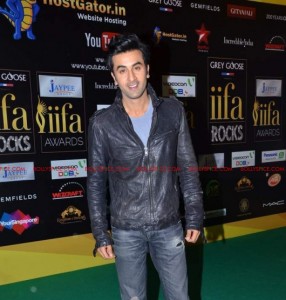 Enigmatic fashion designer Kunal Rawal has quite a few reasons to smile these days. He recently styled both Ranbir and Shahid Kapoor for the IIFA Awards held in Singapore. Both the Bollywood poster boys looked as dashing as ever as they walked down the green carpet at the event. The latter, who has a new release Teri Meri Kahaani in the pipeline, went onto host the IIFA Awards.
Kunal also styled the stars for some brilliant performances on the night. First up was the father son duo of Rishi and Ranbir Kapoor. They were dressed in flashy silver jackets, reminiscent of the latter's look when he played the character Monty in the film Karz in the 80's. Their clothing and brilliance won the audience over on a night that is sure to live in memory for sometime. Kunal then styled Ranbir with a military inspired look for an exciting Rockstar song performance that was vibrant to say the least.
Next up for Mr. Rawal was another Kapoor, Shahid this time. Kunal designed an iconic 1960's look for the Teri Meri Kahaani star, well suited to the character he plays in the film. He then worked closely with choreographer and director of Rowdy Rathore Prabhudeva to style Shahid for a South Indian themed performance. Working with the mercurial Prabhudeva for the first time was an engaging experience for the young designer.
But styling the big names hasn't been the only thing on Kunal's plate. He is all set to launch his fashion studio in Juhu in Mumbai backed up by an ecommerce website which will be used to promote and sell his latest collection. His original D'Stress collection and his new off the ramp collection will both be on sale at the studio and on the website. Kunal's collections offer a good variety in choice and are backed up by some ubercool accessories that are sure to appeal to a wider customer base. "As a designer, I believe that my clothes aren't event specific that you pick only on special days. They are casual and wearable on a day-to-day basis. I try appealing to everyone who believes in a sense of style and aims to project it," says Kunal. Smart words from a man who has quietly established himself as one of the best designers going around in B-Town.
Kunal Rawal's collections are all set to be on sale soon. So get ready for some style!