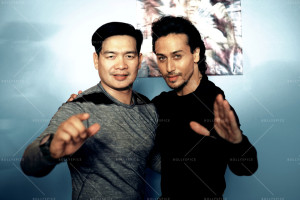 Even though Kung Fu is almost always associated with China, it is said that this martial art originated in India.
The young Bollywood heartthrob, Tiger Shroff, whose recently launched trailer of producer Sajid Nadiadwala's 'Baaghi' gives viewers a closer look at his high octane action scenes, reveals how it was founded by an Indian Buddhist monk named Bodhidharma.
The expert taught this martial art form and took it forward after he travelled to China. That's how it become synonymous with that country. Apparently, Bodhidharma is also referred to as the 'Father of Kung Fu' in several temples of Shaolin.
Tiger, whose 'Baaghi' directed by Sabbir Khan, releases on April 29, said to The Times of India, "Though there are conflicting opinions on whether it actually originated from the teachings of an Indian Buddhist monk, Bodhidharma, who arrived in China in the 6th century, one thing is certain, he definitely brought a form of martial arts with him, most likely Kalaripayattu. He transformed the newly-formed Shaolin temple and the Buddhist monks settled there, dedicating themselves to Kung Fu and becoming a warrior elite whose fame spread throughout China and later, all over the world."
Meanwhile with hardly a month left for 'Baaghi,' to release, Shraddha Kapoor and Tiger Shroff are trying every possible means to perfect their roles.
The 26-year-old actor recently took to his Twitter handle and shared a pic, wherein he is seen doing some martial art stunt with her co-actress Shraddha:
Getting ready for the final fight, April 29 ? #1MonthForBaaghi@ShraddhaKapoor @sabbir24x7 @baaghiofficial pic.twitter.com/H1AFCtpVCa

— Tiger Shroff (@iTIGERSHROFF) March 29, 2016
Remarkably, the movie has already obtained acclaims from Bollywood celebrities, including Hrithik Roshan, Kriti Sanon, Jacqueline Fernaandez and Arjun Rampal even before hitting cinemas. The shooting of the film was wrapped up on February 21.
Directed by Sabbir Khan, the approaching film is a rebellious story and is slated to be released on 29th April 2016.