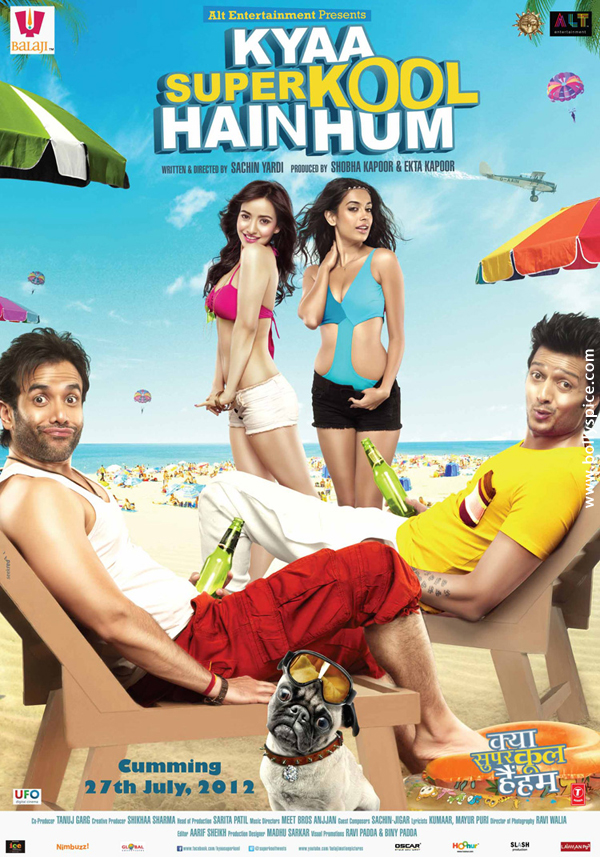 Are films with crass humour, sexual innuendoes, gay jokes, private parts' references and double entendres your cup of tea? If no, director Sachin Yardi's Kya Super Kool Hain Hum (KSKHH) is not for you. If yes, this Ekta Kapoor production starring Riteish Deshmukh, Tusshar Kapoor, Neha Sharma, Sarah Jane Dias and Anupam Kher may just be the timepass flick to watch with your naughty bunch of friends this weekend.
Adi (Tusshar) a struggling actor, and Sid (Riteish) a struggling DJ, are best friends and roommates. While Adi works in humiliating tele-shopping ads while waiting for his big break, Sid earns a living by renting out his horny pet dog Vicky-Donor-style to vets since his DJ gigs keep ending disastrously for one reason or the other. Life takes a turn when Adi falls in love with Simran (Neha) and Sid with Anu (Sarah). After this nothing happens in terms of a story but risqué gags and madcap characters keep popping up, trying their best to make the audience laugh at any cost.
KSKHH is not what one calls 'good cinema' and it does not pretend to be one. The film is honest in its intention of being a brainless entertainer. With not much of a plot to speak of, what we get is a series of running gags – some funny, some not so funny. While some bits are really hilarious, quite a few jokes just fall flat. It doesn't help that a lot of jokes are the ones we have already heard or read on forwarded emails and smses.
Yardi keeps the pace of the film fast so that if one gags fails to amuse, the other one follows soon after. However, the songs, though hummable, are not the kind to take the story forward and act as speed breakers. Though they are well choreographed, the fact that they are forced into the narrative only because a Hindi film is supposed to have songs makes one feel impatient with them. The dialogues are a mixed bag with some being extremely witty and some blatantly copied from various sources.
While Riteish and Tusshar played off each other really well in the film's prequel, here the camaraderie seems off as the latter is not in his element. Riteish is bang on with his comic timing and boyish charm but Tusshar looks lost and comes across as trying too hard. Neha and Sarah are perky and confident, also very pleasant to the eyes. Anupam Kher brings the house down with his eccentric-millionaire act, it was good to see him in an out and out comedy role after a long time. Chunkey Pandey is decent. However, good comedy actors like Razzak Khan and Kevin Dave are wasted in bit roles.
Sex comedy is a genre not much used in Bollywood and the novelty factor works in favour of Kya Super Kool Hain Hum. While the film goes the whole hog in terms of shamelessness and is delightfully unapologetic about it, what disappoints is that it limits itself to a series of puns and gags when it had the potential to be much more. A one-time watch for its sheer outrageousness.