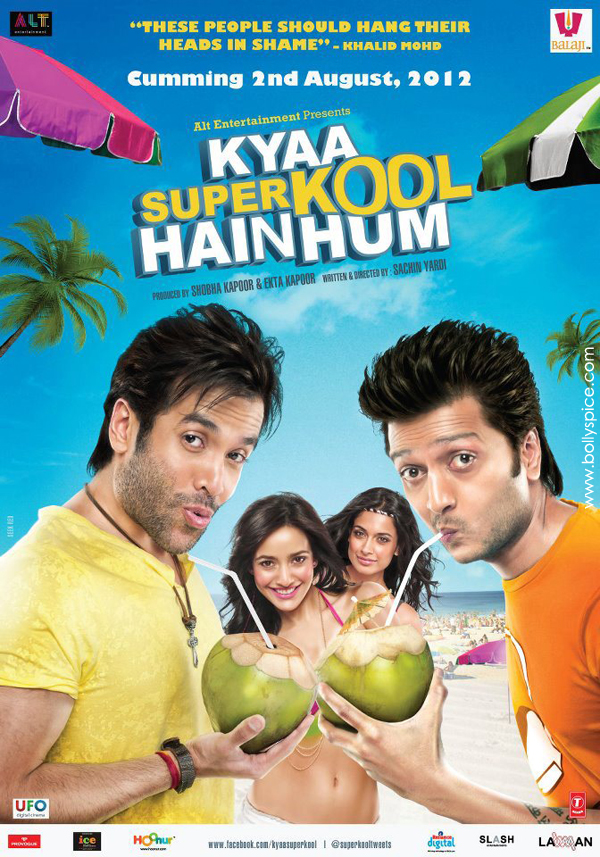 Sachin-Jigar don't often go wrong – and the effervescent, fun, poppy soundtrack to upcoming release Kyaa Super Kool Hain Hum (the sequel to the surprise hit, Kyaa Kool Hain Hum) just proves the composer duo are still fully on their game! All the promos for the forthcoming adult comedy (described as a "sex-com") have been bright, colourful, goofy and peppy – and the soundtrack is fully in line with that vibe.
Dil Garden Garden Ho Gaya has already proven popular with its colourful, goofy, Austin Powers inspired video; and to be honest, I can see why: this song is one of those cheerfully in your face techno-pop tunes that it's pretty impossible not to like. With a relentlessly thumping bass line, a catchy chorus and sparing use of autotune, with Vishal Dadlani's voice adding just the right amount of rock "edge" to the proceedings, just try to get this one out of endless loop in your head. The included Remix isn't too radically different from the original, just amping up a few of the existing electronic elements for the dance-floor.
A love song with a slightly unconventional twist in the lyrics : "Teri shirt da main ta button soniye", "O die hard fan tere hain",  Shirt Da Button is a nice mix of  beautifully, romantically melodic and a tiny bit goofy. Sonu Nigam's voice is an ideal fit for this track, which manages to avoid sounding like just another boring Bollywood love ballad with its offbeat lyrics and some interesting instrumentation – I especially liked the introduction of prominent dhol rhythms and handclaps in contrast with the lush guitar and woodwind section. Also included on the album is an alternate version of the song, Shirt Da Button, Version 2 with vocals handled by Kailash Kher. This alternate version is slowed in tempo, much more downbeat, and seems less of a typical love ballad, seeming to possess more of a spiritual, qawaali influence. Hard to say which version is better as its like listening to two completely different tracks, and both are good.
Hum Toh Hain Cappuccino (U.P.) is devoid of almost any melody except the vocals, supplied by Daler Mehndi, Sukhwinder Singh, Swaroop and Riteish Deshmukh. All else is pure rhythm: whistles and dhol supplying a steady, continuous backdrop to the acapella chanting of the vocalists. It's a long track, nearly 5 and a half minutes long, but it's compelling – constant changes in rhythm and verse and structure compelling the listener to keep listening; plus I can't wait to see how this is picturised. This song makes me think of dust and drums, a rustic, down to earth, unvarnished and compelling listen.
From rustic to the complete opposite: Volume High Karle is a bass and synth heavy dancefloor track. There's not a lot to say about it, really: it's a dancefloor techno track that doesn't – to my ear – add a heck of a lot to the genre. If anywhere, this is where the album falls down a little. There's nothing particularly WRONG with the track – it's upbeat, Neeraj Sridhar does fine with the vocals, it just doesn't particularly appeal or encourage multiple listens. The Remix ups the tempo and boosts the bassy beats, but still doesn't impress me. Neither track is BAD, but neither track is GREAT.
Overall – the music of Kya Super Kool Hain Hum lives up to the title: it's super kool indeed!