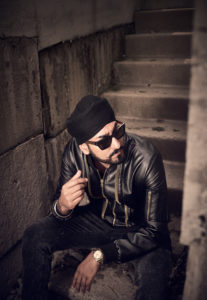 Manjeet Ral of Manj Musik who was instrumental in introducing global artists to Bollywood with TPain Ludacris and Snoop Lion featuring in Bollywood flicks is bringing an epic brand new surprise in store for fans on completing 15 years in the industry.
After his recent singles featuring  Amy Jackson Lakh Hilade and Sunny Leone Margaye crossed 7 millions hits in a span of 5 days it seems Hollywood has taken note and Manj will be announcing a huge collaboration shortly along with his wife Nindy Kaur and rapper Raftaar.
We laid our hands on an interesting social media post. We came across a post where Manjeet Ral asked his fans who would they chose between Kylie Jenner and Kim Kardashian tagging them in their official handles on Instagram .Our sources have informed us that the world fashion icon Kylie Jenner will be seen in Punjabi single soon and that too in Indo Western wear by SOS Clothing. Manjeet Ral is in discussion with the leggy lass for his single Supermodel that will be filmed in Los Angeles and have a very global feel to the song. There are good chances of Kylie singing a few lines in Hindi and from what we are told shes being paid a whopping amount to be a part of this project. Moreover Kylie has requested that the entire shoot must be wrapped up in not more than 5 hours.
Ankit Khanna, Director, DNH Artist's & Business Partner, Manj Music Inc. states – "Yes our global team has approached Kylie Jenner and we are in the final stages of negotiations. We are trying to figure out how best we can leverage this association . Additionally, we are also in talks with a few more international artists for Manj's album that's called Punjabi Billboards which would be Manj's tribute to the Punjabi Music Community."