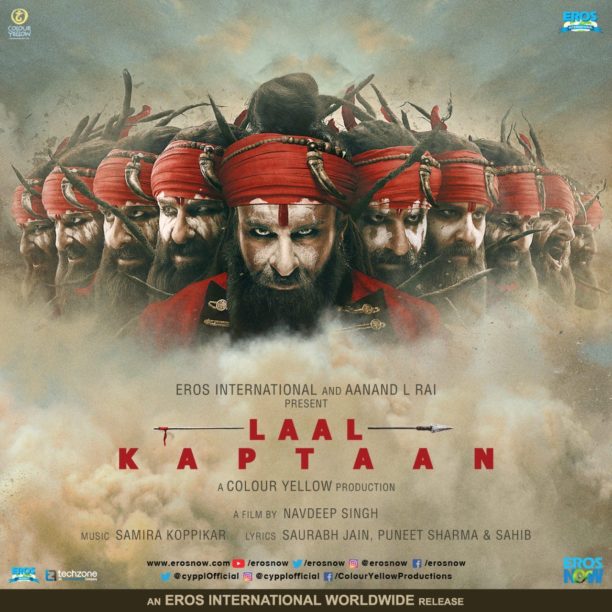 Laal Kaptaan is an all-action power revenge film that released on 18th October. A strong cast led by Saif Ali Khan as the titled captain bring this powerful story by Navdeep Singh for Dusshera 2019 over 3 parts with all the ferocity that Dusshera demands. The film poster is just as much Dusshera with the familiar 10 heads being represented by Saif Ali Khan's 10 angriest expressions. Backed by Colour Yellow and Eros International productions, it was a surprise to find a new up and coming music director and singer in Samira Koppikar. Nevertheless, having proved herself in NH10, also directed by Navdeep Singh, this choice should not be seen as anyone being cheap. The description of this album on YouTube provided by the Eros Now channel is "Dark, gory and melodious."
The album begins with Kaal Kaal sung by Brijesh Shandilya and Dino James and at 4:14 is the longest song that audiences have had for a long time. A travelling song which takes on a 3rd person perspective of the captain, this is the dark described in the album description by Eros Now. Very simple beat structure with a dhol and mrydangam acting as beat and rhythm with a flute over the top but all firmly behind the singers. The problem with being 4 minutes long is that at some point a song must take a slight shift, whether it be singer or instrument just to change it up for the audience or listener. Since this does not, it becomes a shock when the song abruptly comes to an end, which could be for effect or just that there were no more lyrics to be had.
Shreya Ghosal is asked to sing Red Red Najariya, a light classical piece with harmonium and ektara that quickly opens into a folk item song. Where in a lot of item songs the hero seems to fly in and out of shot while the central dancer goes to her work, this song is very pointedly directed toward Saif Ali Khan's character and unashamedly goes after the anger in his eyes in a light-hearted look for 2:47. Short and sweet is really what it is and what it is for.
Tandaav brings Brijesh Shandiliya back to the mic, this time along with Kailash Kher. This is the title song and the one that features all over the promotional materials. With its overlapping voices, disorientating but driving sound, this feels very much like the gory song from the Eros Now description. The lyrics play this out, with the song effectively telling the story of Dusshera itself, but somehow still in the context of an action sequence or several depending on its use in the story. There is a strong religious affiliation here as well as plenty of menace.
For the last song, Lahu Ka Rang Kara, Samira Koppikar takes the mic for herself to bring a haunting melody. It's classical Hindi lyrics force listeners to concentrate on the words, but that is not at the loss of melody or the driving beat that is so ever-present throughout this album. This certainly feels melodious thanks to the combination of kettle drum and rabab and Samira's own powerful voice holding things together on top.
Throughout the film's promotional material there is plenty to make this soundtrack all about the dark, gory and melodious. To that extent it fulfils all these with Kaal Kaal, Tandaav and Lahu Ka Rang Kara. However, when more closely examined Kaal Kaal is repetitive to the point of irrelevance, Tandaav is gory but almost impossible to keep up with (and that's just as a listener) and Lahu Ka Rang Kara while hauntingly melodious doesn't do anything to become memorable. This leaves Red Red Najariya, which while sung by Shreya Ghosal, still proves in the end to be an item song; something that every film has and seemingly does better.