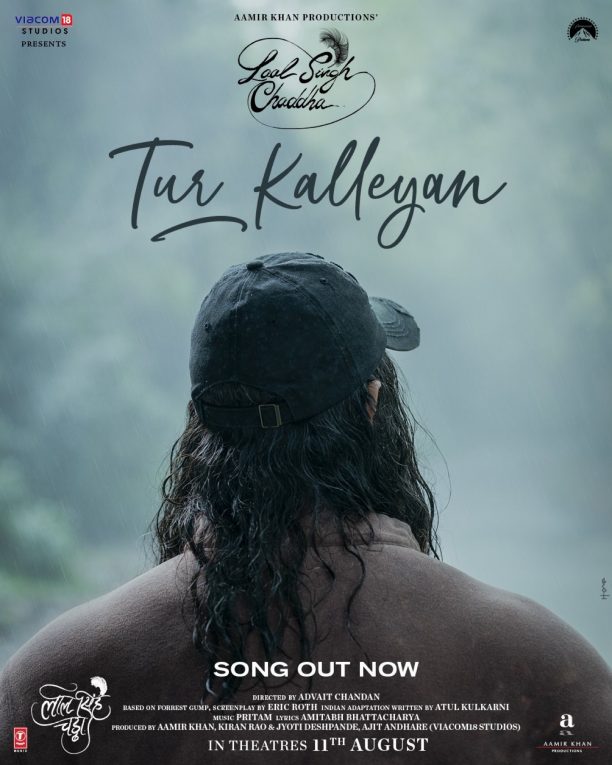 Aamir Khan's LAAL SINGH CHADDHA is getting ready for release on Thursday, August 11th. The film, directed by Advait Chandan, also stars Kareena Kapoor Khan, Mona Singh, and Chaitanya Akkineni. It is an Indian retelling of the Tom Hanks hit film Forrest Gump.
In a unique twist, Aamir Khan and the filmmakers have decided not to release song sequences or traditional song videos with montages but just lyric videos. They took this step so that the songs can fully speak to the audiences outside of the film. Then, as many can attest, you can hear the soundtrack and absolutely love a song but then once seen within the world of the film, it will mean and sing to you even more.
They have released four incredible tracks this way. Now the latest track, 'Tur Kalleyan', has dropped, and it is haunting, moving, and absolutely gorgeous!
Another outstanding track by Pritam, it is sung brilliantly by Arijit Singh. 'Tur Kalleyan' is a moving song that captures the spirit of relinquishing all that weighs you down and looking forward to a newer, loving self. 'Tur Kalleyan' means "to walk alone".
Put your headphones on and get lost in the music!
The entire song is now available across music platforms, including Spotify, Apple Music, and Amazon Prime Music.
I honestly cannot wait to hear more and then see this story come to life when Laal Singh Chaddha hits the big screen on August 11th!