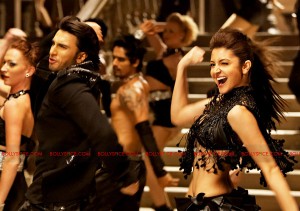 With the music already creating a stir and the audiences eagerly waiting to see the sizzling chemistry between Ranveer Singh and Anushka Sharma and his other 28 ladies… Ladies v/s Ricky Bahl is all set to 'woo' the audiences.
YRF and the audiences have high expectations, with a lot of the expected success riding upon the past spectacular achievement of Band Baaja Baarat.
The movie refers Ranveer Singh as the stylish and the most awaited conman who cons 28 ladies around Lucknow, Delhi, Mumbai and a number of other cities!
One amongst the many cheated girls is Dimple Chaddha (Parineeti Chopra), a brash 19 year old from Delhi who loses her father's fortune to the charming Ricky Bahl. Another lady is Raina Parulekar (Dipannita Sharma), a corporate hot-shot and Saira Rashid (Aditi Sharma) – a sweet and simple girl.
All these ladies unintentionally fall for the stylish conman and lose their bank balances to that "one" ultimate fraud.
So, let's wait and watch who cons whom in this battle of 'Thug Le' going live this Friday!