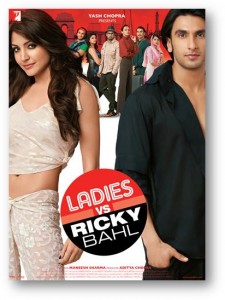 In yet another path breaking move, India's premiere Studio, Yash Raj Films (YRF), entered in to a deal with Colombia's 64-A Films to remake the Aditya Chopra Produced, Maneesh Sharma Directed and Ranveer Singh, Anushka Sharma starrer, Ladies vs Ricky Bahl, in Spanish.
The deal was closed in Cannes and Diego Ramirez (Producer/Co-CEO), 64-A Films, expressed his excitement of tying up with YRF on a first of its kind remake of a "Bollywood" film. "I think the character of Ricky Bahl is the real asset of this film and we look forward to adapting this for Colombian and Spanish audiences everywhere. As of now we are looking to film this in 4 Colombian cities of Cali, Medellin, Bogota and Cartagena for the sun and beaches there – there is a possibility to go across Latin America once the final script is locked".
"This is truly path breaking for not just YRF as a Studio, but also for the Indian film industry at large, as it paves the path for more such opportunities for everyone. Diego's passion for cinema is exactly what we were looking for when exploring these options and we're delighted with this deal. We look forward to Ricky getting up to his tricks in Latin America now", said Avtar Panesar (Vice President – International Operations, YRF)".