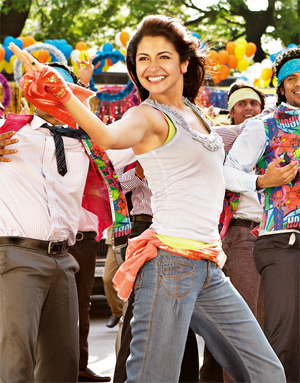 She's had a great run for the past 12 months, and 9th of December will seal her fate. Anushka Sharma has gone from strength to strength and proven that a pretty face is not all that she is. After the immensely successfully Band Baaja Baaraat she followed it up with a soulful performance in a small but significant role in Patiala House. Now she returns with her BBB team and is greeted by sky high expectations. But before D-Day it's customary to catch up with the stars and get them to dish out all the details on what all we can expect on the 9th of December so read on for an in depth insight into Ladies Vs Ricky Bahl in the words of the leading lady herself.
Q. From the successful Band Baaja Baaraat to Ladies vs. Ricky Bahl. How has the success journey been?
Honestly if I look back and see just how successful BBB was and the amount of love and adoration we've been given I come to the one main realization that the film was not a one man show! Everyone worked hard and everyone's work got appreciated. When we were making the film it was a really good energy we had on sets. It was a young team and everyone had something to prove about themselves. We didn't sit and sketch out a goal that this film should be a blockbuster; no there was just a collective love for the script and the characters that translated into good work. I don't think any successful film has ever been made with the makers, actors and technicans thinking that they are going to deliver a cult blockbuster. No successful film can come out with such thinking. You just make films with a clean heart, you make films because you are in love with those scripts, you make films because you are in love with the characters and when you do, a Band Baaja Baaraat is created!
Q. When the shoot of Ladies vs. Ricky Bahl began, BBB was still running in theatres and the experience of working on BBB was still fresh in your mind. What did you feel when you were offered LVRB with the same team (except for the three ladies) the technicians and the core team, you and Ranveer are the same so what did you feel when you got this film?
See because I know Maneesh I knew that he was going to set out to make another film right after BBB. I knew that he is not going to make something even close to or similar to BBB. So when I read the script of LVRB I was like see I knew this – he is not going to make another BBB. This film is the opposite of BBB and yet there are some moments which make you feel reminiscent of BBB but in such a different environment, in such a different space with two very different characters and you know they are very different from Bittoo and Shruti but at the same time the situation might remind you of something from BBB but like I said its in a new environment, the body language and the way the characters are speaking are no way similar to those in BBB. The way Maneesh has taken shots, it completely changes the whole thing. I don't know whether this is a disadvantage or advantage seeing as BBB is like a monkey on our backs right now. So if people are coming to watch LVRB thinking they're going to be watching BBB they are very wrong. They are watching a very different film, a very good film and exciting film, a very stylized film and a film which has intelligence yet it has emotions. It also has a lot of freshness because of the three girls in the film who all are new and I think they are such fresh faces which has added to the film's appeal.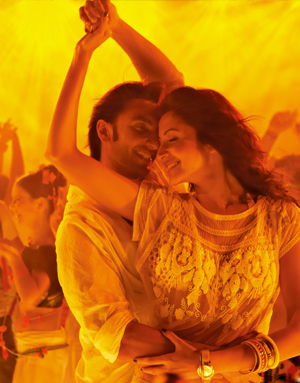 Q. Tell us about your character Ishika?
I think I identify with Ishika because when a girl lives alone in a city like Mumbai or in a city like Bangalore or Delhi you naturally develop a sense of independence. You start to guard your surroundings and you guard yourself. You shield yourself very well and you become street smart. I think that always almost happens and it's a very natural progression so even if you come from a protected family and if you are living alone in Bombay you will become a strong girl who needs to take care of herself in a very positive way so I think this is what for me Ishika is. Ishika is a very strong girl and she is very intelligent girl and an adventurous girl. She loves life and she seeks pleasure in life and at the same time she has her head on her shoulders and she is carefully guarding herself. She is street smart, quirky and intelligent and I think these qualities make her very relatable. I think a lot of girls will be able to relate to Ishika.
Q. How did you prepare for your character – did you go through a process of readings with director Maneesh Sharma and with Habib Faisal?
After working with director Maneesh on the first film and with Habib sir I would like to surrender myself to these two people because they are very good at what they do and I think most of my energy as a performer comes from Maneesh and Habib. So you know when we do readings they'll ask me to say lines in a certain way and most of the time we are all on the same page but there is always this extra direction that comes from Maneesh which are these little nuances that he tries to add in characters that I fully trust. So there was preparation but the preparation was almost like an activity that we did together and this was for the first time in my life ever that I have been a part of workshops before a film. Atul Mongia (Acting Workshop Director) was there and actually the idea was that Maneesh was just having a workshop with the three girls and I just said yaar why don't you include me, let me also come for the workshops and I actually realized that it really helped because it broke those barriers that we might have had you know, it was like 5 people in a film so it broke those barriers and we got more comfortable with each other through those workshops and understood the characters better. When you are developing the characters together as a team with the involvement of Atul Mongia, Maneesh and all the actors then it really adds those different dimensions to each character which was very helpful to make everyone look so distinct in the film.
Q. How was it working with the 3 Ladies?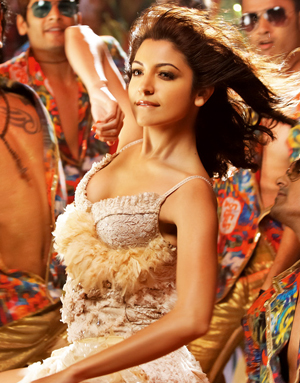 The first thing that I feel is that every girl has been cast for this film so correctly that I don't think you could have had a better cast. The way they are in their real life, the way they carry themselves and their demeanor is very similar to the reel characters like Aditi Sharma is playing a girl from Lucknow so she has that little tehzeeb in the way she talks. Offscreen if you were to meet her she's such a well mannered and soft spoken person using 'ji' in every sentence, exactly the way her character is onscreen. Then there is Dipannita Sharma – Dipannita is someone who is very poised she has been a super model and she is so tall and so stunning. She holds on to a certain authority and you can't mess around with her. She is someone who doesn't take nonsense and that's Dipannita in real life and that's Dipannita in the film when she plays Raina. Parineeti Chopra – plays Dimple. We kept calling her 'alhurd' and in real life she's also like that. She is very full of life and that's what she plays in the film. So I think these people have been cast so accurately for the film and I don't see anybody else who could have played these characters. Acting with them is so effortless so easy because if I'd had an experience with them offscreen would be repeated when I get together with them onscreen. The reactions to them used to be so real you know and so I think it's a great mix. I really feel I may be wrong but I think to some level all the girls' experiences gets put into this one girl, Sihika, so there is a Dimple in Ishika, there is a Raina in Ishika and there is a Saira in Ishika.
Q. Tell us about some memorable moments with the 3 Ladies while shooting Ladies vs. Ricky Bahl.
I've worked with so many actors for the first time. Ranveer's character appears in segments in his various looks. I on the other hand am somewhat constant throughout the film so had to work with the most amount of actor. When we did our workshops I had decided what sort of attitude would be required with each character. So with Raina there is a little bit of respect for her – she is a thinking person in that group. Then there is Saira. She is who will hold things together and she will always keep things together. Dimple is someone who is always getting into the face of people you know, she is a spoilt kid and there is always an undercurrent between our characters because of her relationship with Ricky. So Dimple was someone who used to keep talking and everybody was like okay Dimple fine, theek hai, haan now let's move on to this topic.
Q. How was it working with Ranveer in Band Baaja Baaraat vs. Ranveer in Ladies vs. Ricky Bahl?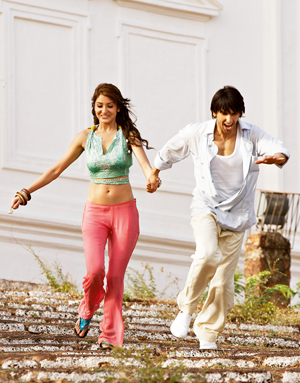 I think Ranveer has relaxed a lot as an actor since BBB. I think me and Ranveer have over the past two years have also known each other better even on a personal level as friends so you know there is a little bit of understanding that we have for each other – which is not something I've experience with any other actor because Ranveer is the hero with whom I have worked more than once. I know how he will approach a scene and he knows how I'll approach the scene. We have an understanding that exists without the need to talk it out. He tends to do more rehearsals than I do and Maneesh tends to do the rehearsals with him. In our first film I used to get irritated with him and him with me but today we have developed that understanding of each other as actor. BBB was a difficult film for both of us and I guess that anxiety and nervousness was too much but today we are more relaxed and I think we have worked better as a team in this film than in the last. So Ranveer and me have this certain undefined chemistry which even I don't understand you know, but it's there and I think most of the time it happens because of the writing. This time the chemistry is there in body language, its there with silence and its there with reactions. When you will watch the film you will understand what I mean but it's more in silent moments and it's more in reactions so that is very nice and rare. That's the main difference between working with Ranveer in Band Baaja Baaraat vs. Ranveer in Ladies vs. Ricky Bahl.
Q. How was it working with director Maneesh Sharma in Band Baaja Baaraat vs. Maneesh in Ladies vs. Ricky Bahl?
Maneesh is a mad director. He was mad during BBB and he is mad now also. Ranveer and I call him a bull because he is so focused and aggressive with his work. He has to get the shots right. Sometimes you don't know what he is thinking but I have realized after BBB that Maneesh is a director that actors should just surrender to. I believe that I am a director's actor. I need a director to get good work out of me and Maneesh is a director who I can completely trust. I trust the way he visualizes something. He takes it a little beyond and he always gives it his treatment and always creates something else with the script. Obviously I am sure Maneesh is more confident with Ladies vs. Ricky Bahl I guess so somewhere I think there is a little bit of comfort level also because he is working with the same team, but having said that I think what I have discovered in this film is that the more I work with Maneesh, I feel that every actor should surrender himself to a director.
Maneesh will take out the best in you. Every character he has treated differently – he has treated Dimple differently, he has treated Saira differently, he has treated Raina differently, he has treated Ishika differently and he has treated Ricky Bahl differently that too with so many looks. So for him he had to really distribute himself into so many areas which he did brilliantly.
Q. Tell us some fun incidents from the Ladies vs. Ricky Bahl shoot.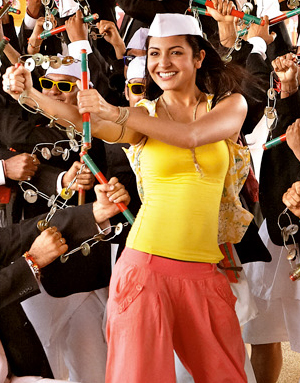 I don't know about fun but I've never been injured so much in my life. Ranveer and I had fallen off a jet ski and it was just such a funny incident for me because I can swim! I am a very good swimmer but when we are on this jet ski and we fell and the jet ski toppled over we fell into water which wasn't so shallow and I was flapping like crazy in the water. When I reached out on the beach I thought to myself why the hell did I flap around like that when I know how to swim. I realized that when you're in fear and feel like you are going to drown you forget that you can swim and I had forgotten that I could swim! So for me like in retrospect I laugh about that. That day was a very taxing day on the entire unit it was an extremely hot day with a harsh sun shining on us. We had to finish the scenes because we had those two days to shoot those scenes. We also fell off a scooter which I was riding, so before the shot happened I told Ranveer we are going to fall and I am telling you. Ranveer is like lost – he is like nahi nahi it's ok we'll manage and all that, so I said theek hai we'll manage and I am taking his support and thinking we can control it only to later go on and shoot the scene and fall! The injuries were quite serious and Ranveer was out for the next three days. Now it seems funny, but truth be told we've literally given our sweat and blood for this film.
Q. What have you learned the most from Ladies vs. Ricky Bahl?
Honestly speaking I think there was too much learning that went on for me during the making of this film at various levels. I've learnt things at personal, professional and practical level. I will forever remember LVRB as a very big learning experience.
Q. Let's talk about Jazba which is your introduction song?
For me it was very exciting to shoot Jazba because I live in Mumbai and I am from Mumbai and I have never experienced Mumbai in such a nice way like I have while shooting Jazba. We have really tried to show every aspect of the city, the essence of the city you know through this song – there are dabbawallahs, we have shot at the railway station in Mumbai which symbolizes the lifeline of the city. Basically I feel like this was my first time to experience Mumbai in this way to be captured on film, you know, it's unforgettable. Jazba is a song that shows the spirit of this girl in a very positive way. It shows that everything in life can be turned into something more optimistic and that one should just enjoy life along with its bad moments can also be enjoyed. I think she has this 'this too shall pass' attitude. Ishika has a very positive attitude and she is full of life but at the same time she is street smart and she is bit 'chalaak', she is a little bit 'chaalu' but not in a negative way you know. So this girl's spirit, this girl's energy, this girl's enthusiasm for life pleasures and adventures that she seeks in life – all this comes through in Jazba.
Q. Tell me something about the dance-a-thon song Fatal Attraction?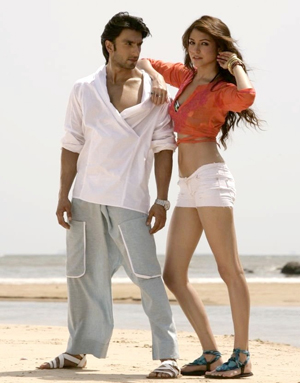 Fatal Attraction is something that I enjoyed the most while filming. Fatal Attraction was earlier referred to as dance-a-thon in the script. There was just this one line in the script which said dance-a-thon and we used to keep overlooking it because it was yet to be shot. We kept thinking it's just one scene that we'll eventually shoot. The scene depicts the conflict of the film and it's an important part, but when we finally filmed it I realized that that little word in the script is actually so big. I think I'd go as far as to say that without this sequence the film would not be possible. The set was decorated by designer Abid who has done an incredible job. It was supposed to be a sort of like a trance party in Goa with these psychedelic colors, neon lights and these UV lights. It was just so amazing that just being on that set made you want to party. It felt like I was in a party for three-four. It's the best set I have ever seen. I love the music and choreographer Vaibhavi Merchant has very effortlessly made this whole thing and it was just like these are moments that have been captured along with the dance but the balance that she brought about never overpowers the emotion – it's so lovely!
Q. Let's talk about the song Thug Le.
I think Thug Le is a very, very thumping pumping number. It's a great dancing number. It's choreographer Shruti Merchant's debut. It's the first time she is choreographing a song and it's so different. There is a lot of heat, there is a lot of energy, there is a lot of aggression but yet there is also a lot of flirting so everything has been combined in this song and the set was just so beautiful.
Q. Last words…
You have seen a lot of rom-com's but if you are really interested in seeing a rom-con please come and watch Ladies vs. Ricky Bahl releasing on 9th December at a theatre near you!