The 16th London Asian Film Festival started last Sunday, and the film chosen for the opening night was Lakshmi, a drama about human trafficking and child prostitution written and directed by Nagesh Kukunoor.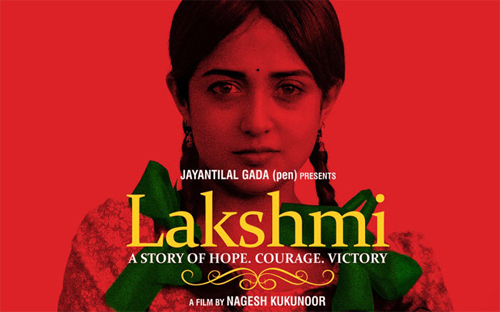 This hard-hitting drama follows the story of Lakshmi, a 14-year-old girl who is kidnapped and forced into prostitution. Although constantly abused and humiliated, her character remains unbroken. When Lakshmi and other girls are rescued in a police raid, she doesn't doubt to stand against her traffickers and take them to court.
Lakshmi is, in the director's words, a fiction made of many true stories. Inspired by his visit to several shelters where he got to know the reality of prostitution through its strong survivors, Kukunoor was determined to make a film about it. But he needed a good and inspiring story, and it was then when he came across Lakshmi's story.
The main strengths of Lakshmi are a consistent script complemented by amazing performances. Kukunoor takes the audience into Lakshmi's ordeal with honest brutality.
The weight of the film lies on Lakshmi, and Monali Thakur does a splendid job. The singer-turned-actress portrays the brave girl with surprising easiness.
Lakshmi's journey will take her to meet a group of despicable characters. Chinna, the detestable pimp who uses violence and humiliation to forget his frustrations; Jyothi, the madam who runs the brothel to pay for her daughter's education; Swarna, the prostitute who resorts to alcohol to escape from reality. They all populate the underworld where Lakshmi is trapped.
Lakshmi is the kind of film that provokes something inside you. The director's goal is to move people, make them think about human trafficking and child prostitution. Everybody knows that it exists, but it seems we have chosen to ignore it. If we don't talk about it, it doesn't exist. The ambition of this film is to take us out of this lethargy, open our eyes and force us to face the ugly truth.
During the Q&A celebrated after the screening, the director talked about many aspects involved in the making of film. One of the first questions to be mentioned were the difficulties to obtain Lakshmi's testimony and the moral responsibility for making her relive her experience. "When you talk to these women, and specifically with Lakshmi, you want details in order to flesh out your script, in order to make the actors perform better. You want details. But when you are sitting on the other side of the camera asking these questions, you are constantly tested at a moral level". He even gave an example. "Lakshmi would say 'I went to this farm house and this man made me do very bad things'", the first question is 'what kind of man was he?'".
This moral responsibility also tested the director during the selection of the actress to play the role of Lakshmi. "Originally, when I started making the film, I cast a 14-year-old girl from Hyderabad to play the role. The more I interacted with her, I started facing some moral dilemmas. I wanted to tell the story of a girl who was forced into prostitution. And to tell that story, I was actually subjecting a girl, a child, to a really ugly side of life. I became so uncomfortable, I felt completely irresponsible as a filmmaker that I stopped the film". Kukunoor later decided that he would only make the film if he could find an actress who was at least over 21 but could look younger.
The film is characterized by being harrowing and showing Lakshmi's conditions, but Kukunoor actually pointed out that the film is toned down compared to reality. "This is nothing, I've been in these places; they are so incredibly filthy". He also he shared the reactions of a group of sex workers after a screening organized for them in Mumbai. "For the first time since I made the film I was so nervous", the director explains about the experience. He was repeatedly suggested to tone down the film in order to make it more accessible to a wider audience. But he always refused to do it. "I wanted the camera to go with Lakshmi", he said.
It was inevitable that one of the topics to be mentioned was Lakshmi and her current situation. "I saw Lakshmi several months ago. She now works at the same rescue shelter which gave her refuge. She is a happy, intelligent woman, not a child anymore".
When asked about the scale of the problem and the way to come up with a solution, Kukunoor pointed out two aspects that need to be analyzed. "What a lot of NGOs are trying to do now is two-fold. One, they are trying to understand why men seek prostitutes. By trying to change men's attitude, they'll hopefully cut out the demand. And the second thing, the bigger problem is that after these girls are rescued, more than fifty percent go back to prostitution".
Many aspects were mentioned as the causes the existence of human trafficking and child prostitution in India. Tradition, poverty and lack of education were some of them. The director also shared his personal opinion about this matter. "In my opinion it's only because there has never been gender equality. I think that's the root cause", he said.
The event finished with Kukunoor's engaging words. "My goal to Lakshmi is very simple. I want this film to be seen". We completely share the director's ambition. Lakshmi is a disturbing film than won't fail to move you. And a thought you will keep in your mind during and long after the film is that it's not just a story but the daily torment of thousands of girls and women in India and around the world.