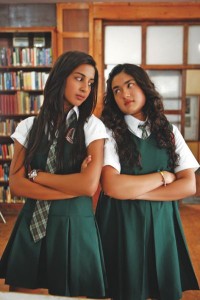 Lalit Modi's niece Jayati Modi is all set to earn her share of the limelight this may as she makes her Bollywood debut. The 16-year-old will be seen in Karan Johar's upcoming film – Gippi playing Shamira.
The young actress, who plays a teenage girl in school, bagged the role in the film thanks to social media. "The auditions were conducted through Facebook and Jayati happened to know about it via her friends. She registered in Delhi with a group of friends but everyone auditioned except her," says a source.
Turns out director Sonam Nair noticed her in the crowd. "When Sonam asked her why she wasn't auditioning, Jayati said she was not sure about it. But when Sonam insisted, she went ahead and not only auditioned but also bagged the role," adds the source.
According to Sonam, Jayati was perfect for the role. " She was not b**** y but had the right attitude that was required for her character. She fit the part of 'Shamira' naturally. In real life as well she is very much like her character. She is intelligent, good with sports and extra- curricular activities and very popular in her school." sums up the debutante director.
UTV Motion Pictures will release Gippi, a Dharma Production, in UK cinemas and worldwide on 10th May 2013.