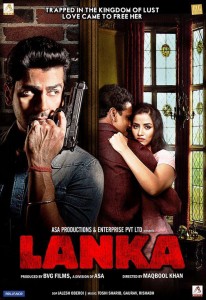 When we recently talked with Arjan Bajwa he not only gave us the scoop on Tell Me O Kkhuda, he also talked about his next film Lanka. According to Bajwa the film is a modern day telling of the tale of Ravaan and his brother Vibhishan. "We've taken this story line in a modern day tale with a backdrop of Mafia and politics set in a state called Uttar Pradesh, which is very rustic, very rough. I play Vibhishan and Manoj Bajpayee plays Raavan and he's the big baddie of the city, like the don of the city. The story is about how because of a woman that Ravaan has been pushing around against her wishes, his own younger brother, that's me, goes against him and betrays him by revealing everything to the cops, going against him totally in the court. It's quite interesting. The stories are hard hitting and shot very well." Needless to say we were very intrigued with this drama.
Lanka, a modern day myth about love, loyalty, betrayal and justice is directed by Maqbool Khan and set to hit theaters on December 9th. It is an emotional journey of a man who is torn between the loyalty for his very own mentor and the compassion that he feels for a girl. It is a different concept as it is a story of the journey of a modern day devil, who chooses to be a man. In this journey the man is termed as a traitor by some and riotousness by the others.
Check out the trailer!