Fugly
Starring Jimmy Sheirgil, Mohit Marwah, Kiara Advani, Vijendra Singh, Arfi Lamba
Directed by Kabir Sadanand
Rating: ****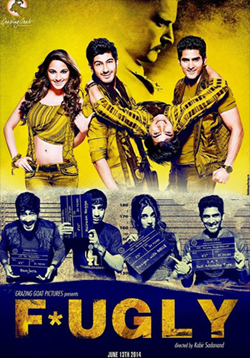 Let's first get the picture right. Contrary to what the trailers and promotional images tell, Fugly is not a Fukrey-friendly flick about four friends having a ball in life. This film means business. Light on top and substantial underneath, this is the Rang De Basanti of the post-Modi era. Thoughtful and at times brilliant, it tells us a great deal about the state of a culture and people searching for reasons to keep the spirit of nationalism alive as self-serving corruption grows all around us.
"There has to be a reason why one feels like dying for this godforsaken country of ours," one of the four protagonists wonders aloud, as one of them virtually martyrs himself in protest against the the highhandedness of a cop who has been ruthlessly hounding and blackmailing the four protagonists.
Haan Bhai, kuch toh hai. There is something about Hindustan that keeps our spirit alive even when as all considerations of ethics and morality die an unnatural death all around us.
Fugly is the cinema of social awakening. It tackles issues such as gay prostitution, khaki-clad fascism, and the excess of television journalism, perhaps cramming in too many social issues in order to make the subject relevant and resonant. And yet nowhere does the director seem to bite into more than he can chew.
In one of the many striking sequences that coil themselves around the four young lives with impetuous intensity, we see random images of people on the city streets misbehaving mostly with women. I don't know how much of these visuals of an ill-behaved nation is candid. Milind Jog's camera seems to move concernedly through the streets of Delhi and Gurgaon in search of answers for the moral bankruptcy that brought Modi into power last month.
This then, is the portrait of a nation grappling with damnation as seen through the eyes of four impetuous youngsters. The actors get it right from the word go. Right away, let's applaud the director for giving us four bright newcomers, two of whom are natural-born stars. Unlike Rakeysh Omprakash Mehra where one of the quartet of "young" people living through the culture of disenchantment was played by a 40-plus actor, Kabir Sadanand's four protagonists are confidently equipped, both physically and emotionally, to make that journey along with their characters from careless pleasure to self-destructive conscientiousness.
I came away with many memorable scenes in the film. One in particular where Devi (Kiara Advani)'s three male friends try to wash the abusive "bitch" off her residential door was deeply moving.
If only we could wipe out the hurt that a bigoted social structure permits the bullying sections to cause!
Sadanand accompanies the quartet of protagonists' journey with wallops of whimsy and irony. He could have avoided making light of the situation when there is no room for levity in the narration. The film frequently suffers from mood swings. One minute we see the protagonists trapped in an eerie cat-and-mouse game with the diabolic cop Chautala (Jimmy Sheirgil, suitably sinister and characteristically outstanding). The next minute we see Vijender Singh's character of a pampered and arrogant son of a Haryanvi politician doing a comic cat-and-mouse skit with income tax officers who have come to raid his father's premises.
Erratic and over-emphatic at times, what works for the narrative is its supremely active heart and soul. That the film and its makers genuinely care for the adrift youth and their aspirational bankruptcy comes out in spurts of brilliancy. The large chunk of the film when Devi (Kiara) gets sexually humiliated by the neighbourhood grocer (a gross contemporary version of what Kanhaiyalal played in Mother India) and her friends' outrage leading to unforeseen and catastrophic tragedy, is exceptionally even in tone and sure-handed in execution.
But then, various debauched politicians and corruptible elements show up to mess up our protagonists' lives. And with them comes irrelevant diversions like an item performed by Sana Saeed who had played Shah Rukh Khan's little daughter in Kuch Kuch Hota Hai. As she writhes her booty inviting sundry lechers to partake of the pleasures I wondered if the impact of the film's message of dignity as a birthright for girls and women is not been suicidally blunted by commodifying women for item songs while expressing outrage over their objectification in the rest of the film. Elsewhere in another unwarranted song break we have Vijender Singh telling us he is 'Good In Bed'.
Oh, really?
Such moral contradictions are quite unnecessary in a film where everyone, most of all the director, knows his or her job. Everyone including the bit-actor Rajveer Ahuja who plays Jimmy Sheigil's subordinate and Praveen Singh Sisodia as the lecherous grocer, is effective and potent. So is the film, if you ask me. Sadanand keeps the proceedings believable and aesthetic .
The ending will shock and move audiences.
Two of the actors Mohit Marwah and Kiara Advani are star material. Their on screen relationship remains undefined, unpunctuated by the mandatory item song.
This film possesses a very rare virtue.
A conscience.