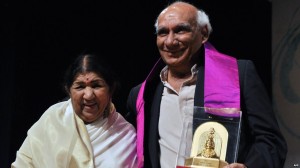 She has sung for almost all of Yash Chopra's films and provided his heroines with an iconic voice. So to hear the news of her very close friend passing away, whom she also considers to be a brother, came as a huge shock for the legendary singer Lata Mangeshkar. The 83 year old expressed her deep sadness to CNN-IBN regarding Yash Chopra's death last weekend: "The news of Yashji going came as a bolt from the blue. Nothing had prepared me for this loss. I had been told he was down with dengue… I was planning to visit him in the hospital. But that visit kept getting put off because of problems in the family. Now I will never be able to see him."
"I have lost a true friend and dear brother. He loved me to death. He had made it clear that I'd have to sing for all his films from the time he turned director with Dhool Ka Phool in 1959. I think I sang for all his films except Waqt." Lataji has provided a singing voice for many of Yash Chopra's leading heroines, which include Sharmila Tagore, Rakhee Gulzar, Rekha, Sridevi, Madhuri Dixit and Preity Zinta. Her voice has significantly contributed towards the popularity of the songs in his films, with most of them still being classics today. They are also considered to be some of the finest which Lataji herself has sung during her illustrious career.
Paying homage to her brother and the magnetic cinema which Yash Chopra has created for the Bollywood audience, Lataji had the following to say: "He was an entire institution in filmmaking. He made every frame look so beautiful. There's so much misery, squalor and poverty in real life. The man on the street went to see a Yash Chopra film to live a dream where everything was picture-perfect, where women were lovely visions in chiffon saris shot against picturesque backdrops in Switzerland and Amsterdam (Netherlands). I am proud and privileged to have given voice to Yashji's lovely heroines."
We have said it before and we will say it again. With Yash Chopra's sad demise, it really is the end of an era for Indian cinema as we know it!