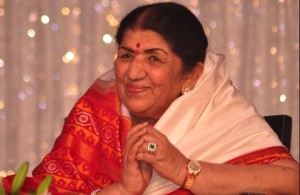 After having officially launched her own record label, India's nightingale Lata Mangeshkar has stated that she is keen to perform a duet with legendary actor Amitabh Bachchan. Lataji recently opened LM Music in order to release forthcoming albums by her and other singers. In addition, she would also like to provide solid opportunities for young kids who compete in reality TV shows to record an album under LM Music.
In an interview with IANS, Lataji stated the following about her desire to work with Mr Bachchan. "Yes! I want to sing with Amitji for sure. We had come together for a duet – 'Yeh Kahan Aa Gaye Hum' in Yash Chopraji's film 'Silsila.' But we didn't record it together."
When asked what type of song she would like to sing with Mr Bachchan, Lataji had this to say: "I believe he is keen to do 'shlokas' of Lord Tirupati with me. I'd love to do the project with him. I've spoken to him about it already. He has also been kind enough to give the voiceover for an album of devotional songs by Suresh Wadkar released on our label. 
Suresh had recorded the Kabir 'bhajan' many years ago, but never released the album. When I heard them, I thought they just needed some brushing up. That's where Bachchan saab's commentary came in."
Lataji also spoke about future plans for her recently launched record label and the forthcoming projects which she has in store for all of us. "We've lots of plans. Usha (Mangeshkar) is ready to record an album of 'garba' songs. I also want to record ghazals. I also want to record poems of Bachchan's saab's father Shri Harivansh Rai Bachchan, selected by Amitji. We're only starting out."
At the age of 83, it appears that Lataji has the energy of a 21 year old! Bollyspice wishes her and LM Music all the very best and hope that she will continue to sing for as long as possible.