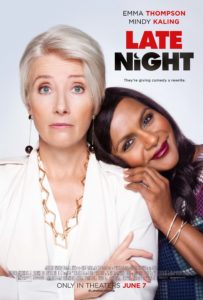 Starring Emma Thompson and Mindy Kaling, Late Night is a comedy with a very deep heart. Directed by Nisha Ganatra, it also features Max Casella, Hugh Dancy, John Lithgow, Denis O'Hare, Reid Scott and Amy Ryan. Late Night opens in theaters nationwide on June 14th.
Late Night gives you a behind-the-scenes look at the world of talk shows and comedy. It is the story of talk show host Katherine Newbury, who after 30 years on the air has lost her edge, her funny, and now her audience. She learns that she may lose her seat at the late-night desk to a younger, hipper, and we have to say obnoxious male host, so she has to figure out how to turn things around. Enter Molly Patel, a chemical plant efficiency expert from suburban Pennsylvania, who is hired as the first and only female on the late-night writing staff. Molly, along with a cast of male writers, work to try and make Katherine Newbury funny and relevant again by bringing a more contemporary, authentic, and personal touch to the show. Does it work? Well, you have to watch the movie to see.
Many times, you watch a trailer and you get the essence of the film, or you see all the funny parts, or the scenes you see make you excited to see the movie on the big screen. With Late Night, I wanted to see the film from the first trailer because it looked really funny, but it was not at all what I expected it to be once the film was laid out before me. It was much deeper, more profound, and absolutely brilliant.
The screenplay was written by Mindy Kaling, and you can tell that she has experienced and lived in this world. The film takes you behind the curtain and into that world of television and comedy, exposes how a show comes together through the eyes of the main talent, the writers' room, the network, and even through the eyes of the family. Every moment feels so true and real. Kaling touches on many relevant issues in today's world and presents them with emotion and a realness that leaves you completely within the story and the lives of these characters. It is a comedy, but what is so surprising is the many poignant, moving and dramatic moments within the world. Instead of writing about them, I say you should just experience this story as a whole and see these intimate and moving scenes because it makes the movie so much more.
Mindy Kaling, of course, is perfect in her comedic delivery and timing but there is so much depth of feeling that she just exudes in this film. You'll laugh with Molly, get frustrated with Molly, cheer with Molly, cry with Molly, and you just want her to succeed. It is a fabulous performance that only Mindy Kaling can do.
Emma Thompson is so much more in this character than it seems to be in the trailer. She surprised me with her stand-up comic timing, and she made me laugh out loud several times. But, when it all starts to break down and she starts to break down, you see the magnificence of Emma Thompson as an actress. With one look you feel her pain, her desire to be better and you applaud her when she fights to stay at the table. She is absolutely outstanding, but when don't you say that about Ms. Thompson?
The equation between Mindy's Molly and Emma's Katherine is perfect. It is full of spark, guts, of two people just enjoying ripping into the words of the scenes and making them sing. From the timidity of Molly, to the roar of Katherine, to the joy, to the sadness, to the hope – they are the perfect people to play off each other for this film.
John Lithgow brings such a nuanced and deep feeling to the piece as Katherine's husband. His scenes may be short but they have so much presence in Katherine's life and the movie.
Hugh Dancy is surprisingly evil with a twinkle in his eye and is so good. Amy Ryan eats up the stage and completely relishes in her lines. She is a great foil to Emma Thompson. Max Casella is a quiet presence that lends much to the room. Denis O'Hare is the perfect go-between and really plays his part well both in the story and on the screen. Reid Scott is fabulous as the insufferable monologue writer but as with everyone, he goes through a change and in the end and you like him too.
One of the things I liked was that it stayed true to the main character study story arcs and that it never went the way of Molly finding true love ala a rom-com. It was inferred but that was not the essence of this story. It was the story of a newcomer trying to make her way and an old-timer trying to find her way again.
Some of the jokes did fall flat, but that may have been intentional. Some of the scenes felt a bit over edited, and I wanted more from certain scenes instead of a jump to something else or another character's tangent. It tried to say a lot and maybe it was too much – so at times it did feel choppy.
Overall though it is the story and the incredible performances that make Late Night so excellent! It is one I highly recommend. Be sure to check it out!