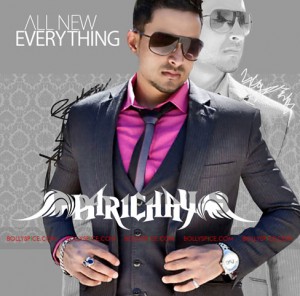 From the 27th December, fans of UK's leading and multi-talented international music artist, Parichay, will have the opportunity to download his sensational new album, All New Everything, free of charge on Facebook for ten whole days.
All New Everything is Parichay's sophomore album, encompassing a mesh of various musical influences that have defined Parichay's signature melody, that are vivacious and fresh in essence.
In the making for the past two years, All New Everything boasts a repertoire of musical tastes, representing the multiculturalism of Parichay's home town, Toronto, Canada. Parichay has not only defined his own inimitable style on this album but he has also collaborated with some of the most talented artists from Rap and R&B to Pop and Bhangra, enhancing the album's cross-over international appeal.
Musically, a majority of the project has been produced by Parichay, with his principle aim being to share his back story and life influences with his fans through his album, so they too experience something new. Parichay comments: "I haven't heard a single album like mine out there, which is a good thing. It gives people the opportunity to hear my story through my music and experience something all new."
The track selected to launch the album is 'Human Machine', a song for the clubs with a video reflecting a party vibe.
Parichay, who is known for captivating hearts across boundaries, admits that although he has been appreciated in Bollywood following his undisputed win in the popular Bollywood music show, Antakshari, and fame with Bollywood hit makers RDB for the title song of the Bollywood film Yamla Pagla Deewana, his ambition is for the world to experience music outside of the films he has been part of.
Parichay's vision to create a sound, unique and accessible to today's generation, is supported by Three Records, a renowned independent, international music label, who will launch the album on 6th January, 2012 across the globe.
Over the years, Parichay has not only grown and matured greatly as a singer, songwriter and producer but has clearly escalated in his performance with his new album. Considering his global fan-following from various sections of society, he has made sure that there is a sound for everyone, with the correct blend of Hindi, Punjabi and English all on one record for the first time. Putting all these elements together, there is no doubt that it will light up dance floors around the world.
To download the album for free until 5th January 2011, click on the following Facebook link.The album will then be available to purchase on iTunes from 6th January 2012.
httpvh://www.youtube.com/watch?v=j_NFK0jyIcQ