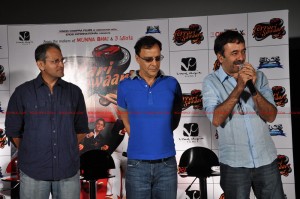 The 3 Idiots team – Vinod Chopra, Raj Kumar Hirani and Sharman Joshi recently launched the first song 'Maara Re' of their upcoming film Ferrari Ki Sawaari.
Director Rajesh Mapuskar was also present at the media interactions in Mumbai yesterday.
Although the child who plays Sharman's son in the film wasn't present but was the main highlight of the event. The child resembles Sachin Tendulkar in his growing years from his posture to his looks.
Asking about the star kid, Vinod replied, "He will appear only after the film is released."
Talking about the child actor, in an earlier interview with BollySpice, Vidhu Vinod Chopra who has also written the story said: "He is just incredible. He was a long search and was found very dramatically. One of the assistants was in McDonalds, having a coffee when he saw the boy paying the bill. The kid was telling his mother to stay seated and that he will take care of everything. The assistant went up to the mother and told her that he would like to audition him for the part. They thought it's a big joke. He told them it's Vinod Chopra Films and invited them to our office and gave them our number. The father called the next day, thinking it was a hoax but it was real number and they came to a real office. There they saw other kids rehearsing and so they knew that it was serious. That is how he rehearsed and we got this gifted child."
At the event, Rajesh Mapuskar and Rajkumar Hirani shared their memories of making the film. Rajkumar Hirani was quite impressed by his assistant director Rajesh who worked with him in Lage Raho Munna Bhai and 3 Idiots and so he promised him many years ago, over a drinking session that he would write dialogues for him for his directorial film. Raju thought he must have forgotten it but Rajesh didn't at all and this is how they ended up working for Ferrari Ki Sawaari.
Raju said "I ended up spending six months on it." to which Vinod Chopra jokingly replied "I thought you did it for the love of your assistant."
The trailer of Ferrari ki Sawaari has already created quite a buzz and the film is slated to release on June 15 through Eros International.
Watch Maara Re from the film here!
httpvh://www.youtube.com/watch?v=5lpc85xBNgE