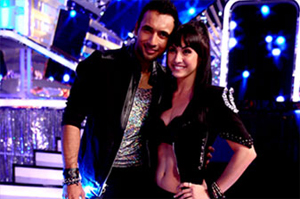 Lauren Gottlieb has managed to make her place not only on the Jhalak platform but in the hearts of the viewers as well! Her fan following on Twitter and other social networks are proof enough of how the Indian audience has accepted this smiling and warm dancer with open arms. Talking about her Jhalak records, Lauren has managed full scores 9 times now!
Lauren is considered to be a sure shot contender in the top 3 for winning the show as she has managed to maintain her performances and only take it up a notch higher every time she comes on stage. Be it her 'Jhalak on Wheels' act or her beautiful dedication to her father, the broadway jazz act or the contemporary on "Ali maula" last week, she has got her perfect 30! This week, Lauren's act is a tribute to Mahatma Gandhi, which fetched the perfect score yet again.
Isha Sherwani got a perfect score 11 times last season, and with the way Lauren's journey is shaping up, she may beat that record for all we know!
We asked Lauren in an exclusive Bollyspice interview about her confidence in winning the show, to which she said that as a contestant, she would surely love to win. "I want to put good art into the world. I want to put something that changes, influences or inspires somebody. If we can keep inspiring people then I'm confident we can win," she added.
In another Bollyspice interview, Lauren was asked what winning JDJ 6 would mean to her and she said, "The greatest gift this season would be to win with Punit by my side. We are a team! This has been one of the most fulfilling experiences I've ever had and I just can't give enough thanks to Punit. Week after week he has come up with something that has never been done before and he more than anyone is deserving of this win."
Watch this space for weekly reviews of Jhalak Dikhhlaa Ja 6, interviews and more!