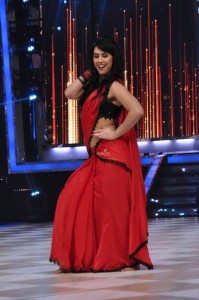 American dancer and actress Lauren Gottlieb made her debut in Bollywood in Remo D'Souza's Bollywood dance film ABCD. She blew audiences away with her performance and fans could not wait to see her do more in Bollywood. Now Lauren has taken a new leap and is appearing on the Indian dance reality show Jhalak Dikhhla Jaa. Along with her partner Punit Pathak, the pair have been wowing the judges and fans and hitting all the right steps and getting perfect 10s on the show! We recently caught up with Lauren again to see how the experience has been performing on the show so far and it was another fabulous, fun conversation! So check 'Foreign ki Lauren' on all things JDJ including their innovative and cool choreography, that dance with Madhuri, performing in front of SRK and more!
So talk to us about your experience on Jhalak Dikhhla Jaa so far.
Coming to a new country, learning a new language, living a new lifestyle, everything, can feel overwhelming at the start. But either you take opportunities that come your way or you let them slip through your hands. When I was offered Jhalak I was really nervous, however, I decided to grab on to it. You can't predict the future, and I had no idea how my journey on the show would play out. I believe sometimes you have to take a leap of faith first, the trust part comes later.
India is a part of me now. It feels so right being here. Everything has manifested itself in such a right way that it just feels so right in my heart. So, the fact that I am doing so well on this show and I've gotten such positive feedback is just another example like 'Yes! I have made the right choice. I am supposed to be here in India to persue Bollywood'. It's a great feeling when you follow your intuition, are open to new things, and start seeing the puzzle pieces fall in the right places. On the first episode of Jhalak, Ranbir Kapoor called me 'Foreign ki Lauren'. That name has stuck with me throughout the season and my fans have connected with me through that pretty clever nickname. (Laughs) The funny part is, with every day I am here in India I am feeling more and more desi!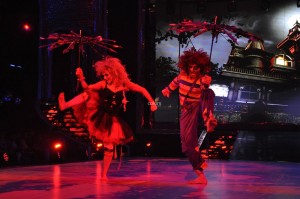 I love your pieces, they are so creative and as a dancer I really love them. So tell us about how you and Punit come up with the numbers.
Once the next weeks challenge is announced, Punit comes up with the concept first and then always manages to find the most perfectly fitting song. From there the costumes, props, extra elements, etc, get added and before I know it the whole graph is assembled. The way he envisions everything together, like a director would, blows my mind. Once everything is in place I love to add my masala into it..
Look at you masala…
Yeah! (Laughs) I'm living it aren't I? (Laughs) I think the reason why Punit and I have been so successful week after week is because we work very well as a team.
You both have danced so well and get so inside the characters; whatever you are dancing, which I think is really incredible…
Being on this show has made me a more honest artist. I am doing everything that I would have ever wanted to do on a dance show ever. It's a dream. I love our dances! I love all our concepts! I am so grateful to show off my acting skills with all the different characters I have played, and get such positive feedback every week. I really think Punit has pushed me and my work to a new level. Through working together we have become very close and wind up spending the whole day together. What's really nice is we have so much respect for one another. Just yesterday he said, "Lauren, for the many things I have to thank you for, I really have to thank you for making me a better dancer". With how much he means to me, and how much hard work we are putting in together, literally tears swelled up in my eyes.
So is it SYTYCD like, where they have like 5 hours to rehearse?
It's more like Dancing With The Stars where you can have as much time as you want or can to rehearse. It's nice to have a couple more days to let the choreography soak in. We try as much as possible to keep a steady schedule. Necessary things in a day are the gym for a nice warm up and work out and then rehearsals both at the Jhalak House and on stage. However it's starting to get a little hectic to fit everything in with interviews, photo shoots, and meetings that are popping up now that I'm getting more and more known here in India.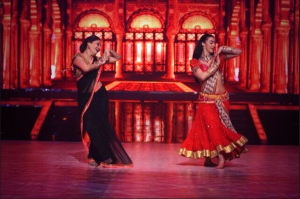 I am totally living vicariously through you. So lets talk dancing with Madhuri…
I feel so honored that I am the only contestant who Madhuri has chosen to dance with her! Along with being one of the most talented and beautiful women I have ever met, her humbleness is very admirable. She is known as the queen of Bollywood and I second that! To dance in front of her every week is a challenge as she is beauty personified.
Have you see any of her films?
Oh yeah absolutely! My favorites are Devdas, Hum Aapke Hain Kuan, and Dil To Pagal Hai. And I've done lots of research on her, especially for Bollywood week. I had her 'Dhak Dhak' song from the film 'Beta' running on repeat over and over again so much that I would suddenly start humming it throughout the day. That turned out to be a good thing because during last week's show I had been challenged by Karan Johar to come on stage and show what I got in a faceoff with Mukti. I can not tell you how nervous I was to perform such an epic song of Madhuri's right in front of her. It's a moment I am incredibly proud of and have been loving hearing my fans call me the new Dhak Dhak girl.
Then we must talk about the Desi fusion piece, which everyone loved. Now that one had Indian classical dance steps. Tell us about learning that and then performing it.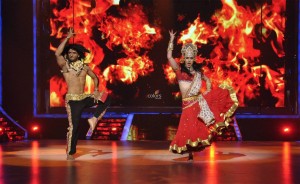 I love that act! It is one of my most favorite acts I have ever had the chance to perform. There is something about the music, about the concept, about the fact that I was portraying an Indian Goddess that just took the performance to a new level. There was lots of character study I had to do on Durga Maa as well as learn two new dance styles: Paso Doble and Semi Classical Indian. I am proud to be very versatile in my work and can adapt quite quickly to new things. For the semi classical Indian style however, the choreography took longer than normal to sink into my body. My biggest fear was that I was going to look like a western girl trying to do Indian dance. We had lots of extra rehearsals that week. To see the finished product and be happy with it, I know all of the hard work had totally paid off.
Then the Bollywood number this past week…
I have the Bollywood bug! I had been waiting all season for 'Bollywood Week'. Punit and I performed on a song everyone knows and loves, 'Jaane Do Na'. I had such a challenge with learning the lyrics, the facial expressions, how to wear a saree, then how to dance with a saree. The response I got after that performance from not only the judges but my fans was overwhelming. My Twitter and Facebook was overflowing with love and support from my fans. To be here in Bollywood and perform on such songs that are loved by everyone and have people respect my dancing and acting gives me such a drive to keep pushing forward.
So you are dancing in front of Shah Rukh Khan…
I wasn't just dancing in front of him I was a man! I was Charlie Chaplin in front of him. (Laughs)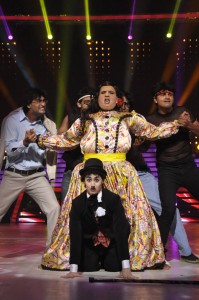 And he still tells you you are beautiful…
Oh I know! I was like you are kidding right. Nonetheless I did actually look like a cute Charlie Chaplin. (Laughs)
What was that like?
I was excited to play someone so iconic like Charlie Chaplin who I think is one of the most legendary performers of all time. I did lots of character study leading up to this performance. I woke up watching his videos, I went to bed watching his videos, and I wore that hat all day, everyday for an entire week. But then to be Charlie Chaplin in front of SRK himself – Wow! Having him there gave me lots of adrenaline.
That one was one of my favorites – the Charlie Chaplin – because as I said this really focuses a lot on the acting of the dances in the song and the expressions and to be able to show that and week after week have the judges' compliments and not just have judges, but have three amazingly talented, super successful people really tell me what they think about me and that my acting is phenomenal in these pieces is just the best thing that could have happened. To have Karan Johar, in that episode with Charlie Chaplin, talk about Sridevi how she played Charlie Chaplin in Mr. India back in the 80's and how he thought that was the best emulations of Charlie Chaplin ever and in that I did better than that, that, just coming from him, as such a compliment.
Okay you are standing there and they are complimenting you in Hindi…
Yes, that has been a little stressful. At the same time it is a great learning experience as I am put on the spot and have to make quick decisions. While filming ABCD I had a different kind of challenge. It was my first time in India and I was hearing the Hindi language for the first time. Still I came to set with my scenes prepared. On Jhalak the judges go back and forth from speaking Hindi and English. So now having spent quite a bit of time taking Hindi classes I can understand what they are saying. But then you have 2 crazy characters like Manish and Kapil who host the show and LOVE to improv. Oh my God! That has been the most nerve recking part. Especially with Kapil talking as fast as he does, I'm lucky if I can pull out a single word he is saying. But the best part is, when I don't understand what's being said Punit becomes my official translator.
What's coming up from you and Punit?
This week was costume drama week. Mine and Punit's act was a fatal love story of Kshama and Parwana, a flame and a moth. The love between the two is so strong that the moth is willing to sacrifice it's life for one single touch from the flame. This performance made history all around. Karan Johar stood up and named it the best act ever on Jhalak Dikhhla Jaa. Madhuri Dixit stood up and said it was the first act to make her cry. And Remo D'Souza walked on stage and bowed down! It was an epic moment, one that I will never forget.
What would it mean to you to win?
My whole life I have put in so much hard work honing my dancing and acting skills. My career has taken so many twists and turns in directions I could have never predicted or ever imagined to be possible. I am so thankful to be doing what I love for a living. The greatest gift this season would be to win with Punit by my side. We are a team! This has been one of the most fulfilling experiences I've ever had and I just can't give enough thanks to Punit. Week after week he has come up with something that has never been done before and he more than anyone is deserving of this win.
I know after ABCD you want to do another Bollywood film, is that in the works?
Yes, I would absolutely love to do another Bollywood film. There have been a couple offers to come my way and I am reading scripts. I have always followed my intuition when choosing projects. So when that next big opportunity comes and feels right in my heart I will grab onto it and give it my all.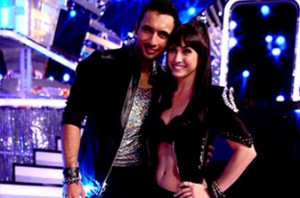 Indian Fans have just embraced you and are loving you on JDJ…
It really warms my heart how much the Indian people have embraced me. I can't even put it into words how special the people are here. It has been a big transition for me but I have made India home with the help of everyone's support. I don't take this opportunity and this platform lightly. I love being a role model for kids who want to pursue their dreams. With hard work and perseverance I believe dreams do come true.
Punit and I are working very hard every day to put on a great show. We want to make people laugh, make people cry, touch people's hearts, and make them proud of us week after week. Winning this show would be the icing on the cake! But the destination is never what I look for in life, it's the journey where you grow and find the most success.
A huge thank you to all of my fans for all of the love and support you have shown me all of these years. From the bottom of my heart, Thank You!