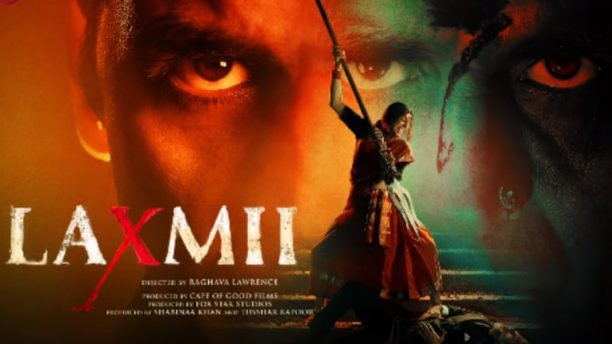 Laxmii (Disney-Hotstar)
Starring Akshay Kumar,Kiara Advani
Directed by Raghava Lawrence
For my money and time, Akshay Kumar is the most engaging A-lister in Bollywood right now. He can be loads of fun when he wants to be. He can also slip in a social message when the need arises. And he has done the needful in the past with flying colours.
This time in Laxmii the takeaway is zero. If the film intends to amplify the debate on the transgender community then it fails miserably. It is abominably loud, largely shrieky and over-the-top with plenty of physical comedy which involves talented actors like Rajesh Verama and Ayesha Reza Mishra falling, jumping, sliding , scooping and whooping as though they were at a rowdy halloween party after a few pegs too many.
Everyone in the film behaves as though on unprescribed drugs, none more so than Akshay Kumar who hasn't done such strenuous and labored physical comedy. Hera Pheri RIP. He is stupendously energetic as Aasif –turnred-Laxmii but wasted by a script that doesn't allow him to have any intelligent moments while uncorking the spirit of a transgender woman on his screen wife's family.
The wife, if you must know, is played by Kiara Advani who, to no one's surprise has nothing much to do except wait on her husband hand foot and pout. The husband incidentally is, gulp, a Muslim. This gives Akshay the authority to speak on the holy Quran, the significance of namaaz, etc in a clumsily-incorporated sequence where Aasif converts his father-in-law (Rajesh Sharma) to accepting his son-in-law's religious identity. If in one stroke Akshay intended to win over two minority communities then sorry to say, he has just lost both the fan base in one go.
The film repeatedly compounds its asininity by creating vastly arid stretches of no man's bland land which is neither funny nor scary simply stupid. Good actors like Ashwini Kalsekar and Shard Kelkar are reduced to running around breathless probably in search of a script.
Adding to the brainless chaos are the songs that break into the bhoot bungler for no rhyme or reason. The songs are so badly structured into the already-askew narrative that if one were watching the film in a theatre, one would run out to the loo or just jump off the nearest ledge to get away from the torture.
Interestingly the trans-gender bhoot, a shrieking whining ball of nervous energy , doesn't show up until half the film is done. When Akshay's Laxmii enters the script we are far too exhausted watching the characters run around helter-skelter to care about her.
Even when dressed in a saree – this is a one-man show. And no bumper prizes for guessing who that man is. Really, Akshay Kumar deserves a lot better than this mangled mess of mirth and horror signifying nothing except a complete bankruptcy of imagination.