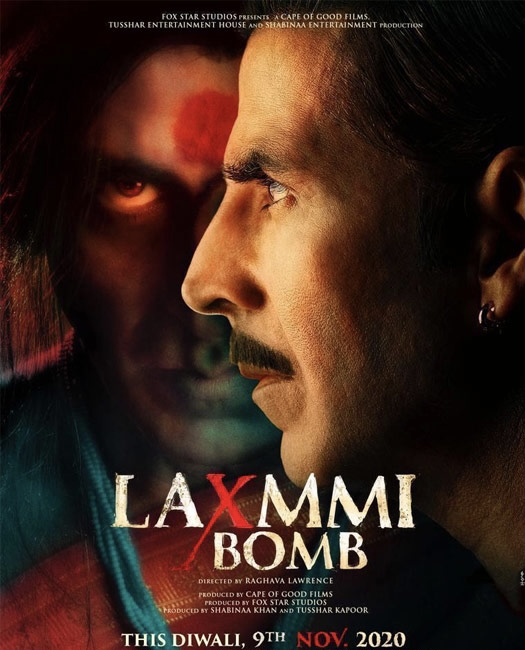 I confess I am disappointed with the trailer of Laxmmi Bomb. It tries so hard to be funny,it hurts! It makes the same mistake that Priyadarshan made in his worst comedies. It thinks the harder the characters scream the more amused the audience would get.And if they run helter-skelter around the house , the plot I sure to find the comic cosmos.
Good that we will see this film indoors during Diwali. Maybe it will drown the sound of exploding crackers outside. In the meanwhile you can always pump up the volume in the trailer when your wife is arguing about the unattended bills or the unkempt lawn or that long due haircut(hers or yours).
Laxmmi Bomb is the noisiest entertainer of the year. Coolie No 1 will just have to find another way to get our attention. Maybe Varun Dhawan mouthing one line that makes sense would do the trick.
Not everyone can pull off inanity. Akshay Kumar can. He is in his element as he yells out lines like, 'Tera pati tera hai lekin tedha hai.' Errrr,ok then.
The supporting cast has the talented Ayesha Raza as the matriarch. She seems more well fleshed in the script than Kiara Advani who redefines the wallflower effect, looking as vital to the trailer as Kamal R Khan to Sushant Singh's case.
Laxmmi Bomb looks like a one-man show.Akshay gets into a Sari with matching bangles and banshee screams not to explore the feminine side of his personality . But to show us what a brave actor he is.
'Look at me. I can wear a Sari and look happy. Can the Khan superstars ever do that? No? Then watch me, applaud me.'
That's the message for all of us. And we better take note. Or else watch out. Arnab Goswami is watching. More dangerous than any ghost.