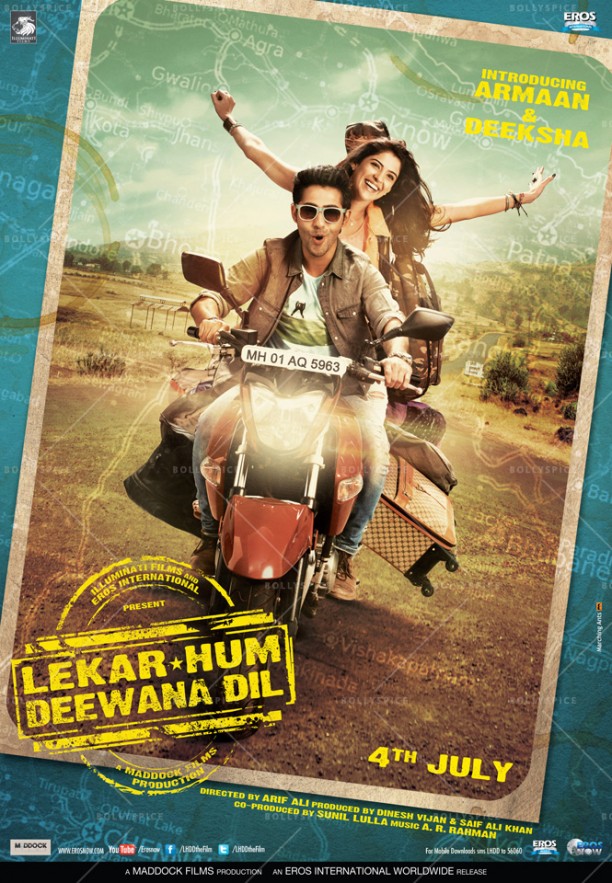 Lekar Hum Deewana Dil is an upcoming romantic drama starting Bollywood newbie Armaan Jain and South Indian actress Deeksha Seth. Armaan is a member of the famous Kapoor clan and is hence the cousin of superstars Ranbir Kapoor, Kareena Kapoor Khan and Karisma Kapoor. Directed by Arif Ali, Lekar Hum Deewana Dil is scheduled to release on 4 July and looks like a promising film. The music has been composed by the renowned A.R. Rahman, with lyrics by the talented Amitabh Bhattacharya, who has written song for films like Chennai Express and Yeh Jawaani Hai Deewani. So is the music to Lekar Hum Deewana Dil worth your time? Read on to discover our verdict!
To kick start the album we have Khalifa, sung by A.R. Rahman, Suzanne D'Mello, Shweta Pandit, Mahesh Vinayakram and Hriday Gattani. I like the techno elements to this song, which sounds like something which you would hear at a nightclub. In addition, I love A. R. Rahman's vocals in this one and he gives it an unconventional, yet nice touch to it. I think it's very different in style to what us Bollywood lovers are normally used to listening too. Yet I say give it a listen as it's always great to try new things.
Next up we have Maaloom, by Jonita Gandhi, Hriday Gattani and Nakash Aziz. I like how the song opens with some nice strumming of the guitar. Yet soon after, it just plunges to the ground and I just found myself feeling disengaged with the song. It may still appeal to some, but for me, it was quite a dull listen overall.
Following this is Alaahdah, which has been performed by Shiraz Uppal. I very much enjoyed hearing Shiraz's vocals and he sings nicely throughout. In addition, the composition is quite flavoursome and contains nice melodies that make it a cool listen. Hence, I recommend that you give it a try as you may be surprised by how good it is!
Next is Maawali Qawwalli, by Raghav Mathur and Tanvi Shah. Though the vocals are well delivered (with Raghav standing out in particular), I though the song was average in general and it just did not have enough flare to it in my opinion. I think it definitely had potential to be an exciting number, but sadly it just does not read that level.
Tu Shining is next and has been performed by Hriday Gattani. Though I liked some of the use of instruments such as the drums and the electric guitar, it was a bit too immature for my liking. I feel like this is something which a 16-year-old kid would enjoy and maybe that is indeed the case. It has that One Direction feeling to it so perhaps it will be a hit with the teens rather than the mature listeners.
Finally we have Beqasoor by Nakash Aziz and Shweta Pandit. I really appreciated Shweta's voice in this particular number and she sings with immense passion, which sends shivers down your spine. In addition, Nakash performs well too, though I felt Shweta really owned this one. The music has also been nicely composed and gives it a smooth coating, which is very much needed with a song like this.
To sum up, I was left with a mixed feeling to the soundtrack of Lekar Hum Deewana Dil. Though songs such as 'Khalifa,' 'Alaadah' and 'Beqasoor' were cool tunes that are definitely worth listening to; the rest were lacking in zest. Hence, it's most likely that they will be forgotten about in the future. Though Lekar Hum Deewana Dil is not one of A.R. Rahman's best works, it's still an album which works in some places.