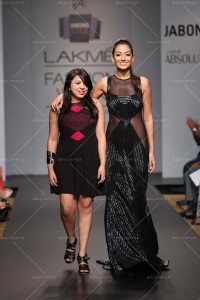 Veda Raheja showcased a refreshing borderline experimental collection christened 'Tri-Faceted' at Jabong Stage during Fashion Week Summer/Resort 2014.
Inspired by the famous works of self-taught Japanese Architect Tadao Ando; the range focused on structured silhouettes with sharp lines and geometric elements to contour one's body. The designer made use of delicate peek-a-boo cut-outs to add a sensual touch to statement pieces like gowns and dresses while also accentuating separates like trousers, tops and skirts.
Versatile fabrics like refined Chinese silk, Chantilly lace and Matka silk gave each piece an urban Indo-International appeal. The colour palette consisted of bold shades like smoky black, elegant plum, indigo, fuchsia, tangerine, blood red and concrete grey.
To draw attention to a woman's form and grace, the designer made use of embellishments in sequins, fabric strips, detailed gathers, beads and flamboyant stitch work.
The show stopper was the very talented actor, singer, Monica Dogra of Shaa'ir and Func, who walked the runway in an ethereal sheer black fitted gown, sporting shiny beadwork in geometric forms with fabric fastenings at the back.
Unique, classy and sophisticated 'Tri-Faceted' by Veda Raheja is a wardrobe must-have for the daring fashionista.