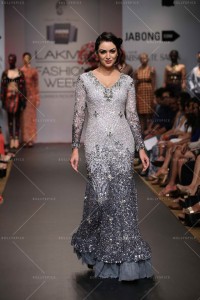 Sourabh Kant Shrivastava showcased a unique couture and prêt line called "Rebirth in Kaliyug" at Jabong Stage at Lakmé Fashion Week Summer/Resort 2014. The line focused on blending Avant Garde with International classic style elements for a charming global appeal.
Dresses, gowns, jackets, tops, saris, cloaks, shirts and trousers made their way onto the runway in classic shades of pearl white, rich gold, nude, smoky black and dusky grey. The designer further worked with sheer fabrics, net, khadi, pure silk crepe, and georgette along with shimmer material for a fresh, breezy look. To add a spark, embellishments graced silhouettes in the form of floral fabric accents with acrylic, leather and metal trimmings. Softly structured cuts and asymmetrical detailing catered to the exquisitely experimental edge of this collection and mixed in the right amount of glitz with glamour.
Two pieces which stood out were a gorgeous black bejewelled bustier gown with a mermaid skirt and a ravishing white fitted jewel, encrusted gown worn by Swedish-Iranian beauty Mariam Zakaria, star of Grand Masti.
Fresh, flirty and feminine, Sourabh Kant Shrivastava's range is sure to leave any woman wanting more.