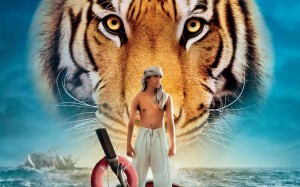 Oscar winning director Ang Lee's cinematic adaptation of Yann Martel's novel Life of Pi finally hits our screens on 20th December. Previously considered to be an 'unfilmable' book, Ang Lee has managed to bring this magical spiritual journey of a young boy named Pi to the big screen. The film tells the story of Pi who is shipwrecked and at sea for days on end, with only a 450-pound Bengal tiger named Richard Parker for company. It is a story about his fight for survival at sea, against the Tiger and the eventual victory of the human spirit.
Ang Lee selected a young rank newcomer from India as the main lead for his multi-million dollar Hollywood production and cast some Bollywood greats such as Tabu and Adil Hussain alongside him. The story also starts in Pondicherry, the old French part of India, all of which is enough to entice the Asian-diaspora and Bollywood fans and the film has already performed well in India. Moreover, the spiritual nature of the book, with it's religious tones and the mystical journey which Pi undertakes, lends itself well to great festive family viewing.
On the other hand there will be a whole section of audience who will be die-hard fans of the book and another section who are fans of Ang Lee, a master storyteller, who has a diverse portfolio of films, from Kung-fu action Crouching Tiger Hidden Dragon, to his Oscar winning drama Brokeback Mountain. Both sides will be asking how well Ang Lee has managed to bring the book to life on the big screen?
Here's the BollySpice view…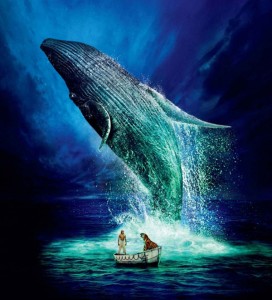 Cinematography: Claudio Miranda captures some amazing shots, some of which will literally leave you gasping! The key to this story is the setting – a lone guy, on a lifeboat, cast out to sea. Whereas with the book, you could use your imagination, what the film has been able to achieve through it's cinematography and visual effects, is literally transport you into that world and setting.
Visual effects: Perhaps for the first time CGI is used to maximum and realistic effect, which is usually a preserve of science fiction films. The world of Pi is brought to life with the ocean literally immersing you into the film and the tiger feeling more real than a trip to the zoo! Life of Pi is just as much an achievement of technology, as it is of story telling or film making. We caught the film in 3D and although many have felt that 3D cinema has been a bit over-rated, Life of Pi makes the experience worth it and is one of the best 3D films since both Avatar and Hugo. However, it's uniqueness is it's content – a strong solid drama, which will hopefully open the doors to more films being made which use CGI and 3D, but outside of the science fiction genre.
Music: We must say that the music was fantastic. If one did not know it was not by Mychael Danna, you could easily have assumed it was by AR Rahman! Danna manages to create some beautiful Indian compositions and orchestral pieces, which not only display his range as a composer, but also blend well into the films narrative and spiritual tones. It is a completely original music score, that has 28 songs on the playlist, which shows just how much of a role music played in the film.
Performances: We have deliberately left this part till last, as despite the story adaptation, the directing, the visual effects and the cinematography, which all make Life of Pi the film and experience it is, none of this would have come together so well without the amazing performances. In the end, Life of Pi is all about it's characters. Suraj Sharma delivers a breakthrough performance, the character he plays was so far removed from the person he is in real life (check out our interview), that it really impresses you how he manages to pull it off. Moreover, you are having to watch solely him for most of the film and therein lies his strength to entertain. Sharma displays a whole range of emotions, which make you laugh, sad, frustrated, exhausted and despair. Irrfan Khan as the older Pi is mature and controlled, but in all honestly it's not a lengthy part, which requires any major histrionics. He delivers what is expected from him and is really calm and relaxed in his approach, if anything it may open up some bigger parts for him in Hollywood. Adil Hussain and Tabu, both play Pi's parents and although Tabu's role is short and simple, Adil Hussain does get a bit of screentime, which he delivers firmly and is a pleasure to watch.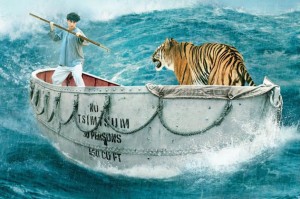 Richard Parker – the Bengal Tiger: We felt we needed to devote a part of this review to the character of Richard Parker. He is a tiger with a personality of it's own and one which stays with you, mainly as he feels so real and literally displays so much through his eyes. The scenes where he is struggling out at sea are equally compelling and touching, which humanises him, equally scary are his roars and the detailed features of his body.
In the end, a whole series of departments have come together to make an amazing film. If you were a fan of the original book, you will not be disappointed, as Ang Lee has done full justice to it. If you are a fan of Ang Lee's earlier works, you will already be used to him doing something completely different with each of his films and in that sense he has delivered a big budget spiritual and magic-realist film, which is just as much about the craft of filmmaking, as it is about telling a good story. For Asian audiences, Life of Pi has many of the sentiments we have become accustomed to and follows the path of great classic story narratives that are handed down from one generation to another. It falls firmly into the family viewing category and although an initial attraction may be its Indian setting or Bollywood actors, it is a truly global film which far transcends its settings or characters.
On the downside, the film's 127 minute running length may take it's toll on you at times and you may even come out feeling like it was more of a Sunday afternoon film, to watch from the comfort of your own living room. But given it's the holiday season, do make the trip down to the cinema, for the sheer scale, colours and beauty of the film will make it a worthwhile experience.