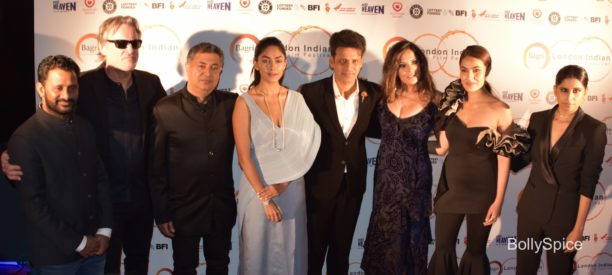 This year saw the London Indian Film Festival begin its run in style, with a world premier in the centre of London. The opening movie was Love Sonia and it was shown to maximum effect on the Superscreen at the Cineworld cinema in Leicester Square.
The converted theatre has been the location for many a premier in the past and a warm evening welcomed the star-studded line up, which included the director, actors and actresses from the film, along with producers and directors of this and other films appearing during the Film Festival.
The red carpet had been set up inside, but despite this there were still a lot of well-wishers and those craning their necks, with their cameraphones, to get a shot of their favourite celebrity. A bustling and excited crowd watched as sharp suits and gorgeous dresses posed for pictures. Even Mrunal Thakur, who is more used to starring in Indian soap operas, looked confident in a spectacular blue outfit, despite this being her first time in a lead role in a world premier movie.
The cast were also happy to share their feelings about Love Sonia. They were all proud to be associated with such a worthy movie. Despite the difficult topic, and occasionally upsetting scenes, there was a hope that making this film can raise awareness, hopefully leading to help for those affected and exploited by sex trafficking around the globe.
Now in its ninth year, and fourth in association with the Bagri Foundation, the film festival features a diverse line-up. Thirty percent of the twenty movies on show this year are directed by women, chosen purely on talent it was stressed. There are also films from Bangladesh and Pakistan, and every one of them is subtitled in English so they can be enjoyed by a wide variety of audience. Language shouldn't be a barrier to being able to enjoy a good movie and that was exactly what everyone at the premier was treated to.