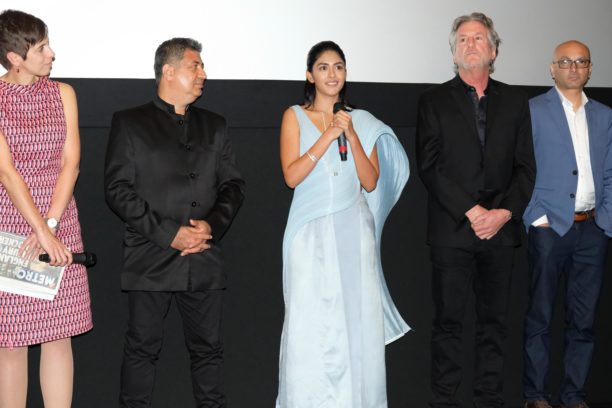 Love Sonia had its world premier in London 21st June 2018 and a selection of the actors, actresses, and the director himself were on hand to answer questions about the film.
The core of the movie is its desire to shed light on sex trafficking and how this illegal trade operates, often in plain sight.
Richa Chadda, who plays a prostitute called Madhuri, warned people that you might think this is a problem that is miles away but we live in bubbles, unaware of what's happening right around the corner. The cast were emphatic that the movie would make a difference.
More than one mentioned how it was very lucky to be working on such a sensitive project and hoped that "Love Sonia" would help save those being taken and abused. Sonia herself, played by Mrunal Thakur, hoped that the movie would help remind people who worthy they were.
Manoj Bajpayee, who plays the owner of the brothel who buys Sonia when she arrives in Mumbai, has worked with and met children with similar stories of abuse and it made him break down. He acknowledged that his character was going to be hated in the movie, but he wanted to make it clear that everyone is just a pawn (even the bad people). "The real villains are the ones with the power," said Bajpayee. "We want this movie to shake things up and start a debate that will stop this horrific menace," he continued.
Those thoughts were echoed by David Womark, one of the producers of the film. "We're hoping it'll be impactful. We didn't want to exploit the exploited, but we needed to be hard enough," he explained. It's obvious for him, and indeed the whole cast and crew, that this is a project that means a lot to them. They have high hopes that it will be seen around the world and make a real difference to those in peril whose plight has been too easy to ignore in the past.
There are uncomfortable moments in the film, mostly focussed around Sonia and the abuse she receives – whether that's the controlling and breaking of her spirit by the brothel owner or the physical abuse of those that rape her. Thakur explained how the scene in Hong Kong was the most difficult, where Sonia loses her virginity in a horrific rape, but it was the real life scenario of filming in the Red Light District in Mumbai that was particularly worrying. "Whilst I was there I felt like I was being eye-raped," she said. It's unsettling enough to play a character who is being abused, but a whole new level to start to feel that in real life. She described how the director, Tabrez Noorani, almost got killed there, trying to help the girls working in the district.
Noorani spoke about the importance of authenticity to the film. "We did our research," he said. "We had survivors, that's what we call them, the girls who had been trafficked and rescued. We had them on set. We had lots of consultants. We needed to make it an authentic film." He said that despite what you might expect, these survivors were full of life and wanted to be on set. Surprising, given the memories it might have brought back for them.
The mindset for those who have managed to come through such ordeals is a complex one, one that Richa Chadda had to wrap her head around. The complexities of her character left her having to deal with how to understand how the victim can become the oppressor. "It's a need to survive. Even to get the basics that we take for granted, like having your own room," she said.
The whole cast also heaped glowing praise on Noorani and how he managed to deal with such a difficult subject. Bajpayee in particular spoke of how the director "makes you feel like you part own the film, not just acting in it."
After a successful premier in London, Love Sonia is ready to take on the world. Noorani was asked how he expected India to react to the movie and what his hopes were. "We're hoping to open in India in September and I'm very lucky to have a cast that will be able to draw an audience in India," he said. Hopefully India will welcome the film, and the debate it opens, as readily as the audience in London were. It's time to make a difference and hopefully Love Sonia can be part of the solution.
Picture Credit: Sohail Anjum